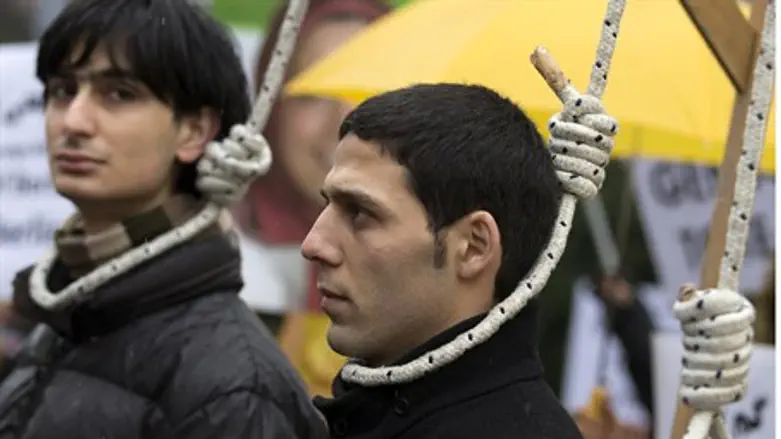 Activists stage mock-hanging in Germany to pr
Reuters
While last week US Secretary of State John Kerry was jetting to Vienna to continue negotiations with Iran over its nuclear program, the United States House of Representatives, in a rare bi-partisan vote, unanimously passed legislation condemning Iran's "gross human rights violations."
This was passed almost simultaneously with the sending of a letter signed by 43 US senators to President Barack Obama, in which the senators wrote that they were "alarmed" at reports of the outline of Obama's possible Iranian nuclear deal.
The US House resolution even adds additional human rights violations that were catalogued in Arutz Sheva's report on the UN Special Rapporteur's scathing report issued earlier in October. The House resolution signals bi-cameral opposition to any "bad" Obama-Iran nuclear deal.
The unanimously-passed House Resolution was submitted, on a bi-partisan basis, by Reps. Ed Royce, a Republican, and Eliot Engel, a Democrat and a member of the US House Foreign Affairs Committee. Among its several provisions, H. Res. 754 calls on the Government of Iran to abide by all of its international and domestic obligations with respect to human rights and civil liberties, including freedoms of assembly, speech and press. It also urges President Obama to impose sanctions on Iranian government officials and other individuals directly responsible for serious human rights abuses.
The House resolution includes the shocking revelation that despite Iran's rampant, documented, and systemic gross human rights' violations, to date, President Obama "has designated only one Iranian person for the commission of serious human rights abuses under the Comprehensive Iran Sanctions, Accountability, and Divestment Act, as amended, since May 30, 2013."
In fact, it has been widely reported that President Obama's Iranian nuclear talks' "strategy" was to disconnect the Iranian nuclear issues from all other Iranian issues such as missile development, wide-spread human rights' violations, executions of homosexuals, funding terrorist and other violent proxies throughout the Middle East, and calls to annihilate Israel.
The highlights of the US House resolution were:
1. "Iranian women are increasingly subject to heinous acid attacks, either condoned by, or sponsored by, the Government of Iran."
2. "Iranian women continue to face legal and societal discrimination, as well as rampant domestic violence, which is not specifically prohibited under domestic law."
3. "United States Commission on International Religious Freedom found in its 2014 Annual Report that the Government of Iran ''continues to engage in systematic, ongoing, and egregious violations of religious freedom, including prolonged detention, torture, and executions based primarily or entirely upon the religion of the accused.'"
4. "The Government of Iran persecutes such religious minority groups as the Baha'is, Christians, Sufi, Sunni, and dissenting Shi'a Muslims (such as imprisoned Ayatollah Hossein Kazemeyni Boroujerdi) through harassment, arrests, and imprisonment, during which detainees have routinely been beaten, tortured, and killed."
5. The House condemned, "in particular, the recent cruel execution of Reyhaneh Jabbari, an Iranian woman convicted of killing a man she said she stabbed in self-defense during a sexual assault."
6. It also condemned, "in particular, the Government of Iran for its relentless persecution of its Baha'i minority."
Given the Obama Administration's statement that inking an Iranian nuclear deal is as important to Obama in his second term as enacting "Obamacare" was in his first term, it appears highly unlikely that Obama will follow any of the House recommendations to censure Iran for its horrific human rights' abuses.
On Obamacare, Nancy Pelosi infamously commented, "We have to pass the bill so that you can find out what is in it." Unfortunately for the Iranians, they don't have to find out what's in Obama's nuclear deal to know what's in it for them: even more gross human rights violations.