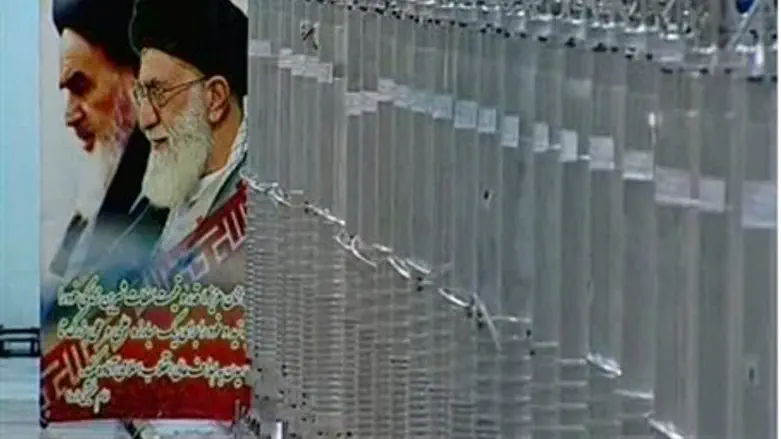 Michael Ben-Ari
Miriam Alster/Flash 90
Former MK Dr. Michael Ben-Ari has weighed in on the "hypocritical" MKs condemning Ashkelon Mayor Itamar Shimoni, who temporarily stopped the employment of Arab construction workers on sites near schools citing security amid the recent spike of terrorist attacks.
Condemnation has come in from right-wing parties as well, with Prime Minister Binyamin Netanyahu's criticism joined by that of Interior Minister Gilad Erdan (Likud), and Economics Minister Naftali Bennett (Jewish Home) going as far as to claim 99.9% of Arab citizens of Israel are loyal to the state.
However, Ben-Ari claimed that from his experience the Knesset itself does not hire Arab workers for manual labor, apparently sharing the security concerns that Shimoni acted on.
Responding directly to Bennett's 99.9% loyalty claim, Ben-Ari said "it would be interesting to know where he did this 'survey'; I was in the Galilee last Independence Day, I didn't see a single Israeli flag. I saw calls against Israel. ...They are loyal to destroying us, and celebrate the Nakba ('Catastrophe' of Israel's formation)."
Ben-Ari's comment refers to the thousands of Arab citizens who protested against Israel's existence in May on the day commemorating the founding of the nascent modern Jewish state.
Continuing his rebuke of Shimoni's critics, Ben-Ari said: "in the Knesset where they work there are no Arabs. There are a few Arab MKs and aides of Arab MKs, but if an Arab comes to work as a building contractor or for flooring work... they have no chance of being accepted."
"Not a single Arab contractor or Arab laborer can work in the Knesset. It's a fact. I was there for four years, all of the contractors are Jews and there are no Arab laborers. Not in flooring, not in carpentry, not in cleaning," said Ben-Ari. "The blood of MKs isn't more red than that of kindergarten children in Ashkelon."
Addressing the MKs who criticized Ashkelon's mayor, the former MK added: "first lets see you get Arab workers in the Knesset and then tell me to endanger the lives of our children. But really, even if you endanger your lives that doesn't mean I have the right to endanger the lives of our children."
"Let the hypocritical Bennett and (MK) Miri Regev first fight against the 'racism' in the Knesset!" concluded Ben-Ari.
The discussion of Arab employment comes as several of the recent high-profile terror attacks were committed by Arab workers who had intimate knowledge of the sites of their attacks, leading to the raised security concerns.
One of the terrorists in the Jerusalem synagogue attack this week worked at a nearby grocery store; the terrorist who recently shot Temple Mount activist Yehuda Glick was employed at a restaurant in the Begin Heritage Center where the attack occurred; and Jewish construction worker Netanel Arami hy''d was apparently murdered by an Arab co-worker.
Many prior attacks were also committed by Palestinian Arab workers employed by Israeli businesses, who used their positions to murder Israelis.