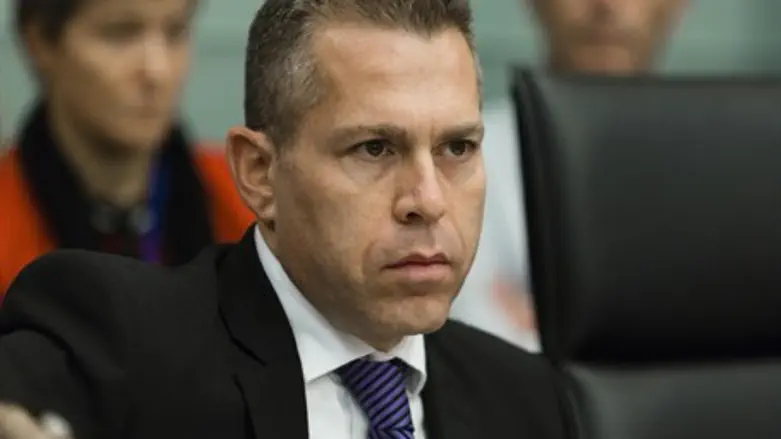 Interior Minister Gilad Erdan
Flash 90
Interior Minister Gilad Erdan (Likud) has added his voice to a growing chorus of criticism against Ashkelon Mayor Itamar Shimoni, who took the controversial decision to lay off Arab workers who were building bomb shelters at a local kindergarten following Tuesday's brutal terror attack at a Jerusalem synagogue.
Shimoni insisted his move was taken due to "security concerns" over the presence of Arab workers at the kindergarten; at least one of the Arab terrorists who murdered five people in Har Nof Tuesday had worked at a grocery store near the synagogue, and likely used the opportunity to plan his attack. Many other Palestinian workers at Israeli establishments - both legal and illegal - have also carried out deadly attacks in the past.
But critics of Shimoni - including Arab, left-wing and right-wing officials - have pointed out that the workers at the site were in fact Israeli Arabs, and have slammed his decision as "racist."
Erdan echoed those criticisms, and said his ministry would be opening an investigation into the matter.
"The mayor's decision is wrongful in my eyes," he said, adding that he had requested clarification from his office regarding the legality of Shimoni's decision.
"We must not act in a way that generalizes and tarnishes an entire community in the State of Israel, and decisions like these could lead to increased tension and fanning the flames," he continued.
His comments follow a statement by Economics Minister Naftali Bennett (Jewish Home), who warned that he would not tolerate discrimination against any worker on the basis of race or religion.
Bennett said he had instructed his office "to step up enforcement against any discrimination-related offense."
"The test of a true democracy occurs precisely when the security situation is difficult. It is very easy to talk about democracy when everything is wonderful, but our test is to stay a strong democracy even in difficult times."