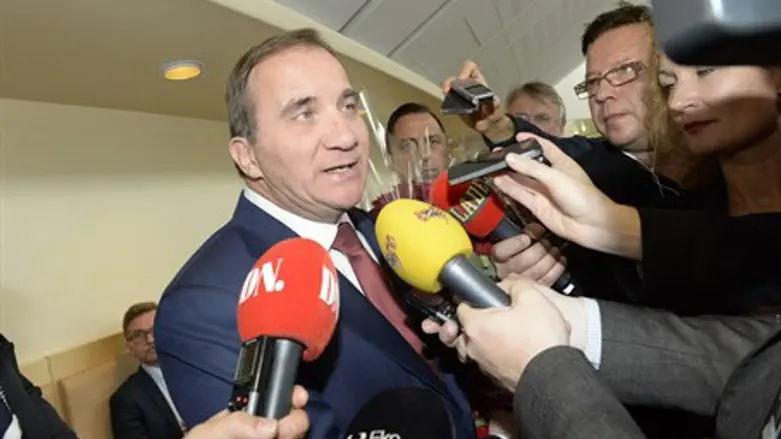 Swedish Prime Minister Stefan Loefven
Reuters
Weeks after the official Swedish recognition of a Palestinian state led to a severe diplomatic crisis between Israel and Sweden, Stockholm has sent a senior official to Jerusalem to persuade Israel's Foreign Ministry to return Ambassador Isaac Bachman to Sweden for consultations, Yedioth Aharanoth reported. 
Head of the Middle East and North Africa Department in the Swedish Foreign Ministry, Robert Rydberg held meetings at the Israeli Foreign Ministry offices in Jerusalem, where he said Sweden would like to a see a normalizing of its relations with Israel. Sweden considers diplomatic relations with Israel of great importance, Rydberg explained. 
Foreign Ministry officials expressed their displeasure with Sweden's recognition of a Palestinian state, and said that at this point in time Bachman, who has been ambassador to Sweden since 2012, will remain (in Israel) for consultations on the issue. 
Several days after the official recognition, Foreign Ministry spokesman Emmanuel Nachshon told Army Radiothat the decision to recall Bachman "indeed reflects our irritation and annoyance at this unhelpful decision which does not contribute to a return to negotiations."
However, senior government officials suggested that Israel has no interest in radicalizing relations with Sweden. The Foreign Ministry believes that Israel's ambassador to Sweden will return by the end of November or by early December. The final decision will be made by Foreign Minister Avigdor Liberman. 
Despite, a resumption of discussion, the tension does not seemed to have cleared. On Saturday, the King of Sweden, Carl XVI Gustaf, wrote and sent funds to Palestinian Authority Chairman Mahmoud Abbas on the occasion of the "National Day of Palestine" on November 15. 
The Swedish King wrote to Abbas: "I want to send my best wishes to honor your health, your happiness, and the prosperity of the people in the State of Palestine" - marking the first time the King of Sweden has welcomed the "State of Palestine."
Isaac Bachman also seems to be in the market to make waves by posting barbs against the Swedes on his Facebook page. 
In response to the Swedish King's greeting, he wrote: "Greetings from Sweden arrive to the most violent country on earth, the most disunited country - because of internal conflicts and violence. A 'state' that its President cannot visit half of, does not control half of, and who is depressed by his allies (Hamas). This same 'government' who has not held democratic elections in four years. Before it can be funny, it's just sad." 
Two days earlier, Bachman uploaded a picture of a large elephant trying to enter a meeting room, with the caption: 'When dealing with the Middle East, Sweden too often ignores the elephant in the room and presents a forgiving approach toward terrorism accompanied by a difficulty to condemn it." 
Bachman added that the current Swedish government does not view Abbas as responsible for the recent onslaught of violence in Jerusalem. And instead of punishing him and the PA, it recognizes the "State of Palestine" and increases financial support. 
"What incentive are you giving them to negotiate with Israel? The PA's logical conclusion: a tough position, no negotiations, and terrorism against Israel paid out big time," Bachman wrote, angrily.