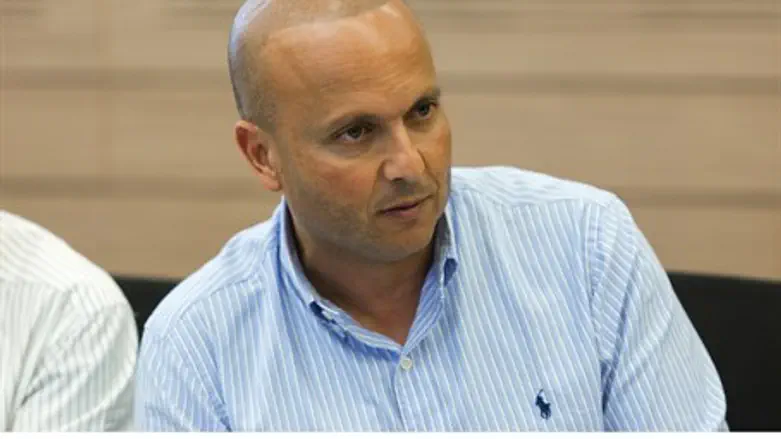 Ashkelon mayor Itamar Shimoni
Flash 90
Ashkelon mayor Itamar Shimoni raised the ire of leftists on Wednesday after he ordered to temporarily stop the employment of Arab construction workers who are tasked with building protected spaces in educational institutions in the city.
Shimoni cited security concerns for his decision, amid continued tensions, particularly in Jerusalem, and the series of recent terrorist attacks, including Tuesday's brutal attack in a Jerusalem synagogue.
The mayor explained that the increased presence of Arab workers in close proximity to educational institutions is potentially harmful to residents' security, and therefore their employment will stop until the tense security situation improves.
The contractor which performs the work in the schools in the city is employed by the Defense Ministry, and it should be noted that the work carried out in Ashkelon is done by Israeli Arabs and not by Arabs living in Judea and Samaria.
The decision angered Meretz MK Issawi Frej, who accused Shimoni of "racism of the lowest kind."
"Under the poor excuse of a 'sense of security', Shimoni wishes to make the city of Ashkelon clean of Arabs and contaminate it with anti-Semitic racism," charged Frej. "I call on Interior Minister Gilad Erdan and on the Chairman of the Local Government Center, Haim Bibas, to publicly condemn Shimoni and ask him to reconsider his decision with all its consequences."
The decision was also condemned by the President of the Israel Democracy Institute, former Kadima MK Yohanan Plesner.
"This is a dangerous decision that is contrary to democratic principles and to the laws of the State of Israel, which forbid discrimination for any reason," Plesner said, adding, "We must not allow Arab terrorism to undermine the foundations of our life together here."
"Even in difficult times we have to make sure to maintain the spirit of democracy and equality in the spirit of the Declaration of Independence," he said.
MK Nachman Shai (Labor) attacked Shimoni as well and said that his decision was "illegal and has a black flag flying over it, and it is appropriate that is cancelled immediately."
"The fabric of relations between Jews and Arabs is now under scrutiny, and leaders are commanded to preserve it and not rip it apart in such a way that will not be possible to rehabilitate," said Shai.
MK Ofer Shelah (Yesh Atid) issued a statement of condemnation as well.
"The directive of the mayor of Ashkelon to stop the employment of Arab workers in the city in order 'to increase the sense of security for citizens' is a serious mistake," he said.
"It is particularly important now, when there are winds of storm and when the fragile fabric of coexistence in Israel is in danger, that public representatives show leadership, and lower the flames rather than stoke them. Staining an entire community of citizens and marking them as potentially dangerous threatens to tear society apart. I urge the mayor to retract his statement," added Shelah.