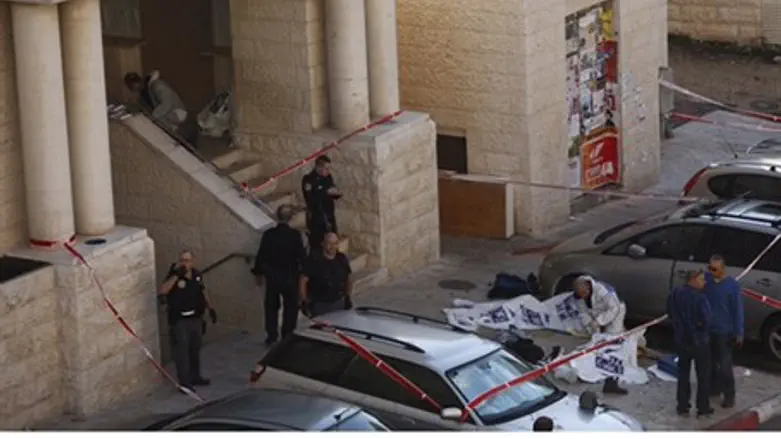 Scene of the Har Nof massacre
Yonatan Sindel/Flash90
In a security message to American citizens in Israel, the United States Consulate in Jerusalem said that Tuesday morning's deadly attack on a Jerusalem synagogue demonstrated "low-level coordination."
The grisly attack occurred when two Palestinian terrorists stormed the Kehillat Bnai Torah Yeshiva Synagogue in Jerusalem's Har Nof neighborhood armed with axes, knives and guns during morning prayers.
They butchered to death four people, three of whom held dual American-Israeli citizenship, and were also successful in critically injuring a security officer who arrived on the scene and later succumbed to his wounds. 
Eight other people were injured in the ensuing slaughter - four of them seriously. Harrowing pictures from the scene showed bodies still wrapped in their prayer shawls (tallitot) and tefilin scattered on the floor.
The two Palestinian terrorists, identified as cousins Uday and Ghassan Abu Jamal, from the eastern Jerusalem neighborhood of Jabel Mukhaber, were affiliated with the Popular Front for the Liberation of Palestine. The pair were killed in a gunfight with police first-responders.
The Federal Bureau of Investigation (FBI) is also reportedly participating in the investigation of the attack. 
"Today's incident differs from recent attacks, potentially demonstrating low-level coordination to attack a pre-identified soft target as opposed to an opportunistic random act of violence," the consulate suggested in the message posted on its website and emailed to Americans registered with the consulate and/or the State Department. 
"While we cannot predict where and when attacks may take place, we have consistently seen a cycle of violence in East Jerusalem neighborhoods following incidents like the one today." 
The consulate's message urged Americans in Israel to "make yourself a 'harder target' and raise your situational awareness" when visiting "soft targets" such as hotels, clubs, restaurants, shopping centers, identifiable Western businesses, housing compounds, transportation systems, places of worship, schools, or public recreation events. These are places, the message iterated, that often have little to no security in place. 
The message added that there is no information to support the belief that the American victims were targeted because of their American citizenship.