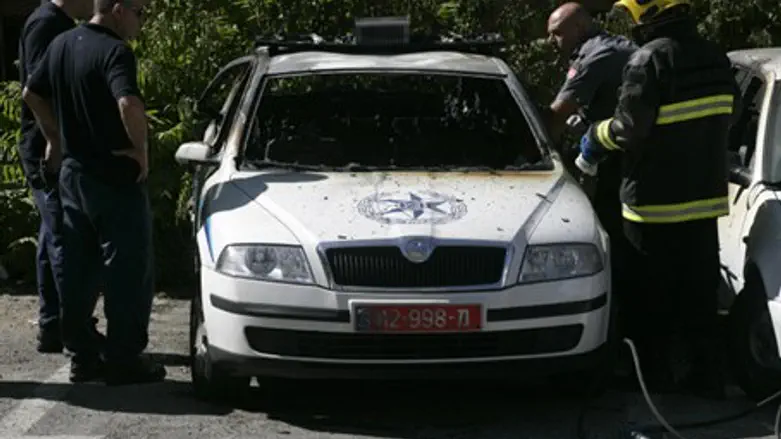 Police (illustration)
Flash 90
Panic spread Tuesday night in central Tel Aviv after residents heard "Allahu Akbar" being shouted from a loudspeaker in a residential building on Ben Yehuda Street.
Allahu Akbar is an Arabic phrase meaning "God is greater" -  it is often shouted by Muslim terrorists at the height of their violent attacks. 
Police from the Tel Aviv Precinct arrived at the scene, located the apartment where the loudspeaker noise was coming from, and arrested three Arab youths - who resisted arrest and attacked the officers.
Considering the sensitivity of the security situation in recent days, the chants inspired over 100 concerned residents to place emergency calls to the Israeli police.
Tel Aviv police forces hurried to Ben Yehuda Street for fear of another terrible attack - like the one at a Har Nof synagogue that had occurred earlier on Tuesday morning. They arrived at the address provided to them, and were referred to one of the apartments. 
A PA system was being operated from that same apartment, and the inhabitants' "Allahu Akbar" chants were sowing fear into nearby residents and passersby. 
The police came to the apartment's door and asked to enter in order to clarify the meaning of the shouting, and to confirm no unusual event or attack had taken place. 
The young people who lived there refused to allow them in for a long time, before one finally agreed to go down with them to the street. 
After refusing to identify himself and trying to escape, he was arrested. At that point, two other individuals tried to interfere with the arrest, and they too were arrested after one of them attacked a police officer. 
All three suspects will be taken Wednesday morning to the Tel Aviv Magistrate Court to discuss their role in the matter.