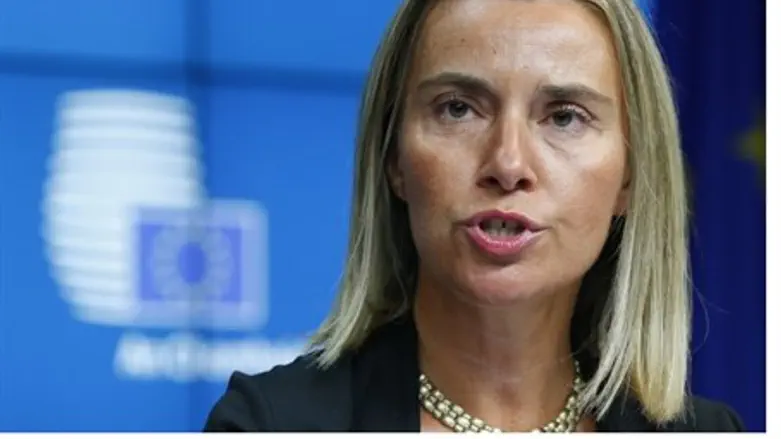 Federica Mogherini
Reuters
The European Union (EU) said Monday it deplored Israeli plans to build Jewish homes on land it deems to be "occupied Palestinian territory," but denied outright that it planned sanctions against Israel as a result, AFP reports. 
There was "no plan of this type," new EU foreign affairs head Federica Mogherini said when asked about an Israeli press report on the issue.
"I saw an article in Haaretz which apparently referred to an internal working document requested by some member states some time ago," Mogherini told a press conference after chairing her first regular EU foreign ministers meeting.
"They were only a working hypothesis, did not go to ministers and today they were absolutely not part of our discussion," she said.
She added: "Our discussions today were all about getting a positive engagement with Israel and the Palestinians so as to restart the peace process; they were not about isolating or sanctioning anyone."
A statement issued after the foreign ministers meeting said the 28-member bloc "deeply deplores and strongly opposes the recent expropriation of land near Bethlehem, recent announcements of plans for new settlement construction... as well as plans to displace Bedouins in the West Bank [Judea-Samaria - ed.] and the continued demolitions, including of EU and member states funded projects."
Israel should reverse these decisions which "run counter to international law and directly threaten the two state (peace) solution," it said.
The EU has recently stepped up its vehement disapproval of building Jewish homes in the capital. Over the past several weeks, Prime Minister Binyamin Netanyahu gave instructions for the building of about 660 homes in Ramat Shlomo and about 400 more in Har Homa, as well as approving 2,610 building tenders from 2012 to be approved for full construction. 
The EU has stressed that building Jewish homes would see 'a return to violence'and threatened Israel multiple times to further its agenda in the Middle East, dangling unprecedented aid packages to both Jerusalem and Ramallah if a two-state solution were to be implemented.
In response, Jerusalem has stepped up its own defense of Jewish building in the capital, with Foreign Minister Avigdor Liberman stressing Sunday that Israel 'will never accept' the labels the EU has ascribed to the building project. 
"One thing should be clear: we will never accept the definition of building in Jewish neighborhoods of Jerusalem as settlement activity," Liberman said Sunday. "We won't accept any limitation on building in Jewish areas of (east) Jerusalem."
"We do not accept any restrictions on construction in Jewish neighborhoods in Jerusalem and there will be no compromise about it," he continued. "Anyone who thinks that the Israeli government is about to give in and limit construction in Jerusalem is wrong, we will defend our independence and sovereignty."