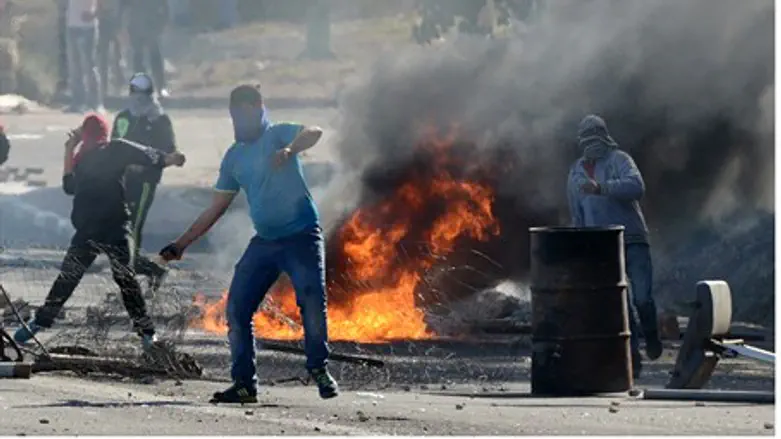 Rioters clash with police in Kafr Kana, north
Flash 90
An Arab bus driver working for Egged was found hanged and dead on Sunday night in his bus at the Har Hotzvim industrial zone bus depot in northern Jerusalem, in an apparent suicide that is quickly being portrayed as a "murder" to incite riots.
The driver, Yusuf Hasan al-Ramuni, is a 32-year-old from the A-Tur neighborhood near the Mount of Olives in eastern Jerusalem. His body was found by his supervisor.
"According to an initial investigation, it appears there is no suspicion of criminal activity, in other words a suicide," police spokesperson Luba Samri said in a statement. Strengthening this line of thought is the fact there were "no signs of violence on the body."
The police report was not accepted by a fellow Arab bus driver Muatasem Fakeh, who claimed to AFP that "we saw signs of violence on his body. He was hanging over the steps at the back of the bus in a place where it would be impossible to hang yourself alone."
Al-Ramuni's brother Osama likewise denied the police report, claiming the body "had bruises on it," and going as far as to suggest he was "tortured" before dying. "My brother had children and was a happy man. It is impossible that he killed himself," he told AFP.
"We reject the suicide theory. We all know it was settlers who killed him," Osama al-Ramuni accused.
The body has been sent to the Abu Kabir forensic institute in Tel Aviv for a post-mortem in coordination with the family, according to police.
Arab rioters lost no time in leaping on the apparent suicide to inflame further violence in the capital, with riots breaking out in the A-Tur neighborhood al-Ramuni hails from as well as Abu Dis in the eastern part of Jerusalem.
Likewise Arab organizations in eastern Jerusalem broadcast an announcement on Monday morning calling for a general strike, in a message delivered via mosque loudspeakers.
"The strike is a response to the murder of al-Ramuni by Jews," stated the message, reports Walla!.