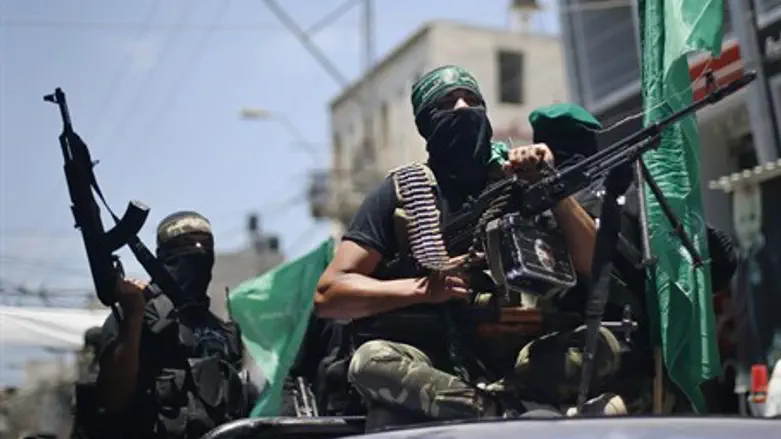 Hamas terrorists in Gaza
Reuters
Abdullah Murtaja, a Palestinian killed in Gaza during Operation Protective Edge on August 25, has been described by the United Nations for the past several months as a civilian "journalist." 
According to reports, Murtaja worked for the Hamas-affiliated Al Aqsa TV satellite channel, and was killed during shelling of the al-Shujaiyya neighborhood of Gaza City.
The Director-General of the United Nations Educational, Scientific and Cultural Organization (UNESCO), Irina Bokova, said in a statement from August: 
"I condemn the killing of Abdullah Murtaja. Journalists must be able to carry out their work in safe conditions and their civilian status needs to be respected at all times. Society needs to be kept informed of events, never more so than when living in the shadow of conflict."
The Doha Centre for Media Freedom, a non-profit organization based out of the Middle East, also lamented Murtaja's death, and denounced Israel for targeting journalists. 
"Doha Centre for Media Freedom is saddened to hear of the death of another journalist in Gaza, and has repeated calls for the Israeli authorities to put an end to the targeting of the media and uphold the values of press freedom."
But a video portraying Murtaja "reporting" from Gaza in full jihadist uniform with rifle in hand, had disproved their civilian journalist theory. 
Gidon Shaviv of Presspectiva, Committee for Accuracy in Middle East Reporting in America's (CAMERA) Hebrew equivalent sent the video to UNESCO - who, with the new information, back-tracked and issued a new statement as to the status of Abdullah Murtaja. 
"On 14 November, the Director-General of UNESCO, Irina Bokova, issued an update about the statement she issued on 29 August, 2014, regarding Abdullah Murtaja, in the context of UNESCO's mandate to defend freedom of expression and press freedom."
"The original statement issued on 29 August was in line with UNESCO's policy of condemning all killings of journalists. During this week, information has been brought to the attention of UNESCO that Mr Murtaja was a member of an organized armed group — an active combatant, and, therefore, not a civilian journalist. This has come to light in a video was posted recently on the Internet with Abdullah Murtaja speaking as a member of an organized armed group."
"UNESCO therefore withdraws the statement of 29 August."
The new UNESCO statement appears on their website. In addition, UNESCO have removed Murtaja from their memorial website.
The specific Murtaja incident also holds greater significance as it gives credence to pro-Israel groups' claims that the numbers of civilian casualties during Operation Protective Edge have been inflated. 
Despite the Palestinian Health Ministry's claims that 78-82% of those killed were civilians, Israel has maintained since the early stages of the operation that some 900 of those killed, or 47%, were terrorists.
Israel was supported by a September study conducted by the well-respected Meir Amit Intelligence and Terrorism Information Center (ITIC), which found that 49% of the "martyrs" listed on the Hamas-run Palestinian Health Ministry (PHM) list were found to have been linked to terrorist organizations, meaning that just 51% were confirmed civilian casualties.
As early as August, BBC and the New York Times admitted that analyses of the Palestinian Health Ministry's numbers did not support claims that most of the deaths were civilian casualties, noting that young military-age men were disproportionally represented in the count. 
However, the UN has been very slow in saying otherwise.