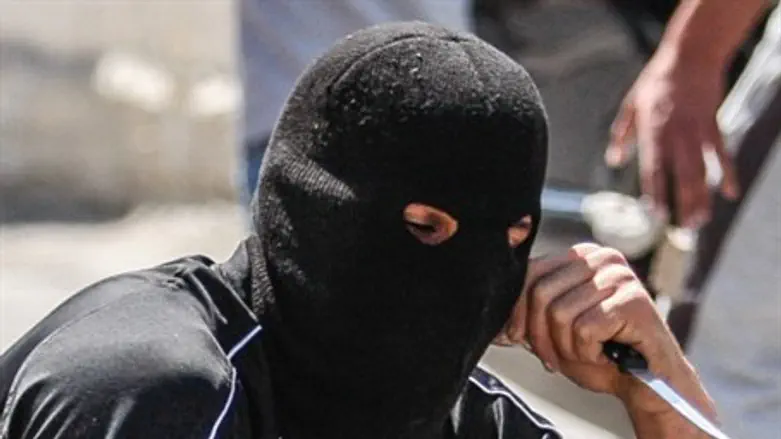 Arab with knife (illustration)
Flash 90
Border Police officers were able to foil an attempted stabbing attack near the Cave of the Patriarchs on Wednesday night.
The officers identified a suspect approaching them. They called on him to stop and found a commando knife in his possession.
The man, an Arab resident of Hevron in his 20s, was arrested and taken for questioning.
The arrest comes hours after members of the IDF's Netzach Yehuda brigade were able to foil a planned terrorist attack by apprehending a member of a terror cell belonging to the Islamic Jihad.
The man was arrested in the village of Burqin, near Jenin, where a large cache of ammunition was uncovered, along with makeshift IDF uniforms.
"We found out that the cell was planning to attack Israelis. They were planning to leave the village and attack military posts or positions of the army," said the deputy commander of the Netzach Yehuda brigade.
Over the past two days, police have started a new crackdown as the "silent intifada" continues in Jerusalem and the area. On Tuesday, 42 Palestinian Arabs who were in Israel illegally were arrested. Of the detainees, 21 were shipped back to PA controlled areas, while the rest were held for questioning.
The detainees were arrested as part of the new "no-tolerance" policy on PA Arabs in Israel illegally, in the wake of the murder of IDF soldier Almog Shiloni, who was killed Monday in the heart of Tel Aviv by a Palestinian Arab who was roaming the city without a permit to be in Israel.