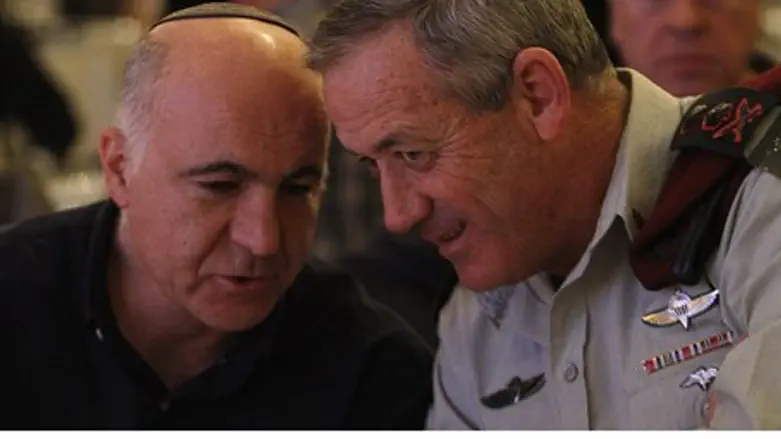 Benny Gantz (R) and Yoram Cohen
Miriam Elster/Flash 90
Prime Minister Binyamin Netanyahu convened a special meeting in his office between Defense Minister Moshe Ya'alon, IDF Chief of Staff Lt. Gen. Benny Gantz, and Israel Security Agency (ISA or Shin Bet) chief Yoram Cohen Wednesday afternoon, after Gantz wrote Netanyahu complaining of mistrust between the IDF and ISA.
Netanyahu instructed all parties to cease from engaging in public with issues that need to be dealt with between the security establishments - and that, ultimately "we all have a national responsibility for Israel's security and we must continue full cooperation for the safety of Israeli citizens."
An emotional conflict has been brewing between the security agencies after top IDF officials accused the Shin Bet of not passing along high-priority updates on Hamas during Operation Protective Edge in Gaza this summer.
In the first Cabinet meeting after the war, Cohen and IDF Intelligence Chief Aviv Kochavi argued in front of government ministers over whether the Shin Bet knew about Hamas's intentions before the war broke. 
Cohen claimed that the ISA had warned the IDF preemptively over the possibility of a war, but Kochavi dismissed it out of hand and claimed that it never happened. 
Inquiries were launched into the war by both the IDF and the ISA, as well as the Knesset's Foreign Affairs and Defense Committee - prompting even further arguments over the issue which have now come to a head. 
Gantz later penned a letter to Netanyahu over the issue earlier Wednesday, after tensions between the organizations have reportedly been building for months - on the background of escalating violence across Israel. 
To add fuel to the fire, an investigative report by Channel 2 revealed Tuesday that Shin Bet officials allegedly warned the IDF months beforehand over Hamas's intention to begin another war, in claims later vehemently denied by IDF officials. 
Netanyahu's urging for public calm is in the wake of another public feud: the war of words between Public Security Minister Yitzhak Aharonovich and Police Commissioner Yohanan Danino last month. The spat - over internal politics within the Israel police amid a laundry list of scandals over the past year - has caused a crisis of conscious for several security officials, who told Israeli media that they were severely worried over the cohesion of Israel's security system in general.