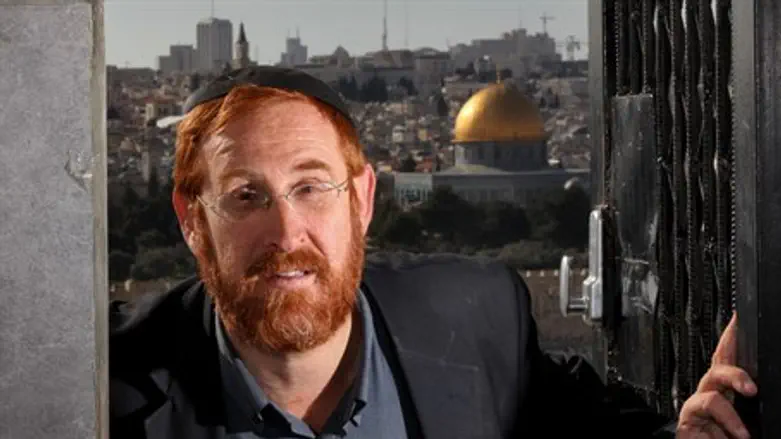 Yehuda Glick
Yossi Zamir/Flash 90
Recovering Temple Mount activist Yehuda Glick is now breathing on his own and speaking, Knesset Speaker MK Yuli Edelstein (Likud) announced during a Knesset plenum hearing on Tuesday. 
Edelstein announced that he had received a personal phone call from Glick, who was shot at close range by Islamic Jihad terrorist Mu'taz Hijazi two weeks ago. 
He had been speaking, minutes before being shot, at an event for Jewish rights on the Temple Mount that had hosted leading religious figures and MKs. 
Glick has slowly been recovering from the attack, which initially left him in critical condition and on life support, and on Monday he began communicating with his family and friends again through writing. 
"You are the first I want to share my joy with," Edelstein stated. "I spoke with Yehuda Glick a second ago - he has been breathing on his own for two hours." 
"Yehuda Glick said he wanted to talk to me and tell me that he wanted to call me quickly," Edelstein told his fellow MKs.
Glick told Edelstein,"I know you fight for the right to speak, and for the last few days I have been fighting to breathe - so now I'm breathing alone and I want to share that with you." 
Edelstein added his thanks to fellow MKs for wishing Glick a speedy recovery from the plenum recently, as well as "the wonderful work of Shaarei Tzedek [medical center]."
"We wish him not only the ability to breathe, but also that he should be able to talk, and walk, and dance, to only have happiness in his family," he concluded. 
Yehuda Glick served as a spokesman for the Ministry of Absorption during Edelstein's tenure as Minister of Immigrant Absorption, and the two are still close friends.