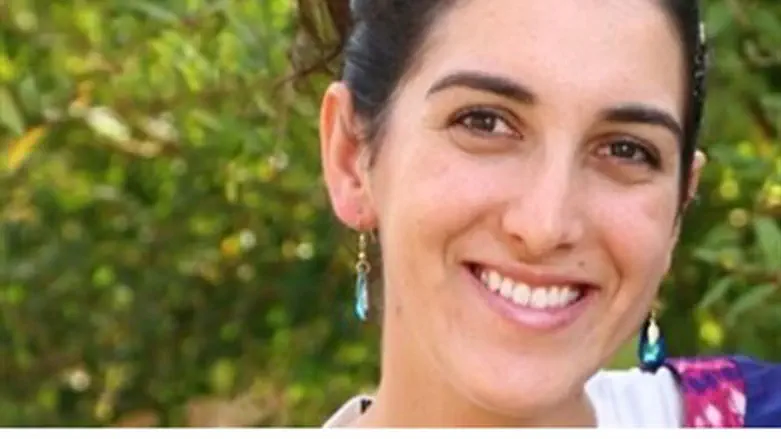 Dalia Lemkos hy"d
Courtesy of the family
The funeral of Dalia Lemkos, 26, was held Tuesday morning in Tekoa, in the Etzion Bloc (Gush Etzion), a day after she was murdered by a knife-wielding Islamist at a bus stop outside the town of Alon Shvut.
Her father, Nahum Lemkos, eulogized her and said: "The terrorist murdered her because she was Jewish, because she is carrying on the tradition of the nation of Israel. The terrorist did not understand that through the murder, he will not succeed in breaking us and our bond to the Land of Israel.
"With your radiant face, your beauty and kindness of heart, you followed the path of Sarah the Matriarch. You helped us and the entire nation of Israel. You have merited to die for the sanctity of G-d and for the sanctity of the land. Beloved Dalia, you join our holy foremothers. May you sit in the shadow of the Shechina (God's Spirit)."
Knesset Speaker MK Yuli Edelstein (Likud), also a resident of the Etzion Bloc, took part in the funeral.
"You gave, you volunteered and you searched for meaning with which to charge your life," he eulogized her. "To make goodness more plentiful and to increase the light.
"We will continue to hitch rides and if the hitchhiking stop moves, it will only be because the community of Alon Shvut is growing," he added, summing up a sense of defiance expressed by residents. "You have become a symbol of the Sons of Light against the Sons of Darkness."
Rabbi Avi Walfish, who heads the congregation that the Lemkos family belongs to, said that "a righteous woman has left us."
Watch - Rabbi Avi Walfish eulogy:
"The loss is that of the entire nation of Israel, and especially of the children in Tekoa whom you tended to. A full world of beauty and color was cruelly chopped down."
Lemkos was stabbed by a terrorist who initially struck her down with the car he was driving before getting out and stabbing her to death as she lay wounded on the floor. Another 26-year-old man who stood next to her was seriously wounded and a 50-year-old man who tried to stop the terrorist was hurt in the jaw.
The terrorist is identified with Islamic Jihad group and served time in an Israeli prison between 2000 and 2005 for throwing fire bombs. His cousin, Musa Abu Shalmun, was released in the Shalit Deal.
Shortly after her murder it was revealed that Dalia had been wounded in a previous stabbing attack in 2006, also in the Etzion Bloc.
She leaves behind her parents, Nahum and Brenda, two brothers and three sisters.
That attack was the second of its kind in one day, after a terrorist murdered IDF soldier Almog Shiloni outside Tel Aviv train station.
Photo credit: Hezki Ezra