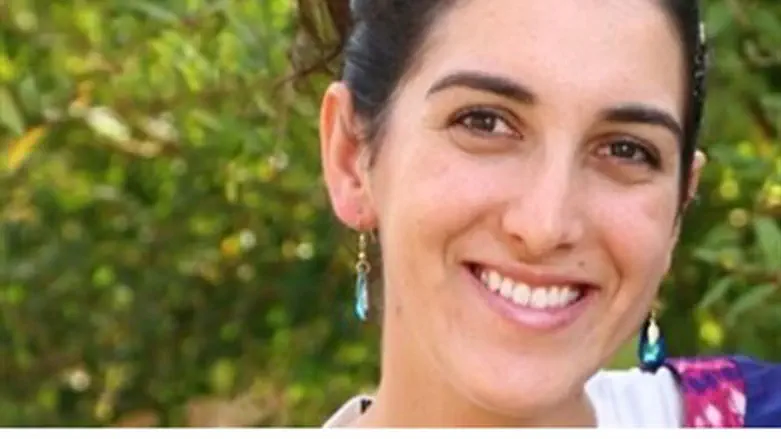 Dalia Lemkos hy"d
Courtesy of the family
Ori Schechter, a resident of the Gush Etzion resident of Rosh Tzurim, is believed to be the last person who saw and spoke with Dalia Lemkos, who was murdered in Monday's terrorist attack in Gush Etzion.
Schechter gave Lemkos a ride to the hitchhiking station outside the town of Alon Shvut, where she was stabbed to death by a terrorist. He recalled the day's events in a post on his Facebook page on Monday evening.
"I am writing this post with trembling hands. Today I experienced one of the difficult and most painful experiences of my life," he wrote, recalling what happened that earlier that afternoon, as he made his way home from Modi'in.
"I saw a young woman standing at the Shimshon junction, holding up a sign reading 'Gush Etzion'. I stopped and when she entered the car, the sign rolled over and I saw that the other side read 'Kiryat Gat'."
"I asked her with a smile, 'Are you going to Gush Etzion or to Kiryat Gat?'. She replied that she lives in Tekoa in Gush Etzion and works in Kiryat Gat," he continued.
Lemkos told Shechter that she works as an occupational therapist in kindergartens and loves working with children, he recalled. "We continued to talk. I let her off at the intersection of Alon Shvut and headed towards my home in Rosh Tzurim. She got out of the car and thanked me, and I wished her a pleasant trip."
"I never imagined that a few moments later, a despicable terrorist would come and and kill her," wrote Schechter. "May the soul of Dalia Lemkos (yes, this is how I found out her name) be bound in the bond of life."