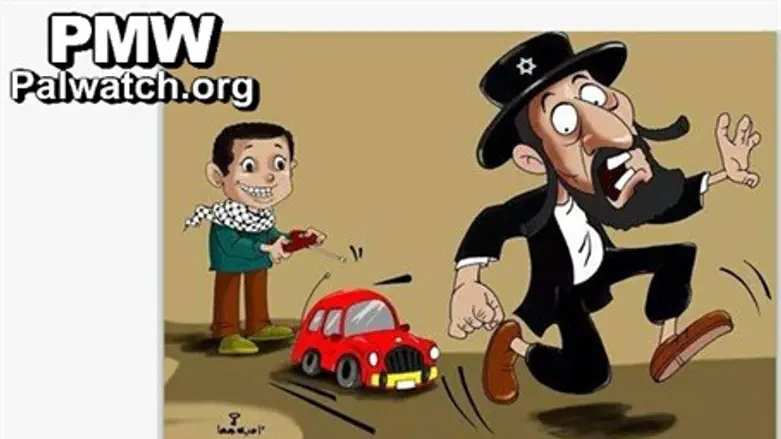 Anti-Semitic caricature
PMW graphic
A song that urges Palestinian Arabs to use cars to commit terror attacks against Israelis has become a big hit on social media, reports Palestinian Media Watch, highlighting the alarming levels of incitement encouraging Arabs to emulate recent deadly terrorist attacks.
One video version of the song "Run over [the settler]!" by singers Muhammad Abu Al-Kayed and Anas Jaradat has more than 385,000 viewings on the "Quds News Network" Facebook page. On one of the singers' YouTube channel the song has more than 71,000 views.
Among the songs lyrics are direct calls to murder Israeli civilians: "Run [them] over, destroy, annihilate, blow them up ...lay an ambush on the road and run them over."
The song also promotes the libel that the PA leaders are disseminating - which Palestinian Media Watch has highlighted in the past - that Israel is trying to destroy the Al-Aqsa Mosque, which is "in danger" and in need of "defenders".
(Translation courtesy of Palestinian Media Watch)
"For you, glorious Al-Aqsa

We'll run over settlers

...

Lay an ambush on the road

And run them over, Allah will aid you

...

Run them over, burn the next in line

Don't leave a single settler

...

Wait for them at the intersection

Let the settler drown in red blood

Terrorize them

...

Run [them] over, destroy, annihilate, blow them up;

Don't let the Zionist live long

O Al-Aqsa, we're your defenders

O son of Jerusalem, cry 'Allah is great'!"
The song appears in the wake of several terror attacks carried out by Palestinians using cars to run over Israelis in Jerusalem in recent weeks, killing five people and injuring dozens. It also honors Mu'taz Hijazi, the terrorist who attempted to murder prominent Temple Mount activist Rabbi Yehuda Glick.
The song dedicates one stanza to each terrorist.
"The whole Arab nation is telling you:

Al-Akari, bless your [soul]

Run over the settler!

Run over the settler!

Abd Al-Rahman Al-Shaloudi

ran over a Jewish settler

He did it for his country

with his limited means

Today, the entire people demands a hero

willing to fight with weapons

He began fighting with a car,

running them over like rabbits.

...

Mutaz Hijazi didn't neglect [his duty]

when he wielded his weapon and took control

Mother [of Hijazi], let's hear cries of joy

Mutaz has been promised Paradise."
Another video version of the song features images both from recent "car terror" attacks as well as pictures of the terrorists themselves, who are lionized as "Martyrs."
Also included are images of Arab rioters and a picture of Rabbi Yehuda Glick, who is still in serious condition after being shot four times in the assassination attempt.
The image shows Glick looking at Jerusalem, which is encircled with a heart, while he himself is crossed out. It also features pictures of speedometers showing 150 km/h speed, the text "Jerusalem" and "run over," traffic signs with pictograms showing cars ramming into people accompanied by the words: "To the Zionists in occupied Jerusalem: Warning: You may be run over any moment" and "The Car Intifada - Da'es.
"Da'es," Arabic for "run over" is a new and chilling "catchphrase" born of the Palestinian terror attacks with cars. It is a play on words resembling the Arabic acronym with the Islamic State terror group (ISIS): Da'esh.
Palestinian Media Watch  also highlighted how singer Muhammad Abu Al-Kayed posted a cartoon onto his Facebook page showing a Palestinian child trying to ram a car operated by remote control into a fleeing Jew.