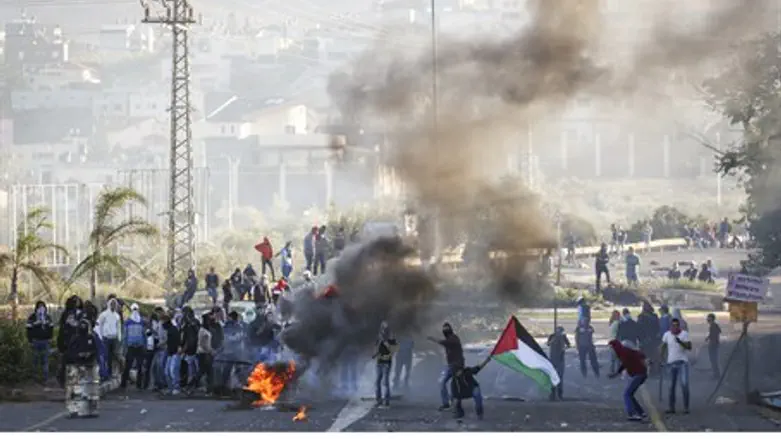 Israeli Arabs riot in Kafr Kana
Hadas Parush/Flash 90
Much of Israel's Arab sector is on strike nationwide on Sunday, in "mourning and solidarity" with the family of terrorist Hir Alhamdan, 22, who was eliminated by Israeli police in Kafr Kana on Friday night. 
Businesses, schools, and even official institutions closed in protest early Sunday - even in mixed Arab and Jewish cities such as Haifa, Akko, and Yaffo - and some localities have even flown black flags. 
"We have shut down the business day in protest," Omar, a resident of Kafr Kassem, told Channel 2 news on Sunday. "Our blood is not worthless." Omar noted that the strike and protests nationwide have even outweighed those during Operation Protective Edge in Gaza. 
In anticipation of clashes during the strike, large police forces remain in Kafr Kana. 
However, protestors claim that they are merely looking for answers, not to incite terror further. 
"We do not want rioting; all we're asking for is an investigation into the shooting," Kafr Kana's mayor, Mujahed Awad, stated to the daily. "The young man in question did attack the patrol car, but he was shot to death when it was possible to disarm him some other way." 
Awad even insisted that the State should "be grateful" to Israeli Arabs, for refusing - in his words - to join in on the violent Arab rioting in Jerusalem. 
"Government ministers and police should thank the Arab sector, which - during the two weeks of rioting in Jerusalem - has not thrown one rock or led one protest," he claimed. He further blamed the shooting on "right-wing ministers." 
Interestingly, a lot of frustration is being directed at Internal Security Minister Yitzhak Aharonovich - who is being blamed by Jerusalem's Jewish residents for allowing the rioting to continue. Now that criticism is being duplicated, oddly, from the opposing side. 
"The feeling among Arabs and Jews is similar: there's a lack of confidence here," Ahmed Ghanem, a Haifa resident and former Haifa City Council member, stated. "The Prime Minister must lead in lowering tensions and calming the atmosphere." 
Ghanem's statement surfaced mere hours after a protest was launched by some 200 Arab and leftist students at Haifa University against the shooting, under the banner, "The charge: Arab. The punishment: death." 
"The murder of the young man in Kana would not have been carried out if not for the green light given by the Minister of Public Security," claimed Tariq Yasin, Chairman of the communist Hadash party's representation at Haifa University. "We embrace the call of the Monitoring Committee to dismiss Police Commissioner [Yohanan Danino] and Aharonovich." 
Alhamdan was shot and killed by police on Friday night. Alhamdan reportedly lunged at a police car in an attack pose and repeatedly made stabbing motions toward the car's window.
Hamdan was buried in Qana Kheir on Saturday afternoon, but huge protests erupted shortly after his death. 
About 5,000 residents of Kafr Kana demonstrated Saturday in protest of the shooting. Dozens of youths set tires alight and hurled rocks and firebombs at police. Some bore signs saying "His only crime was being an Arab," and others shouted "Zionists, get out of our lives."
During the demonstration, three locals were arrested on suspicion of rioting and disturbances.
After the demonstration and multiple related incidents nationwide, the Israel Police has raised the terror alert to "C" (Gimmel).