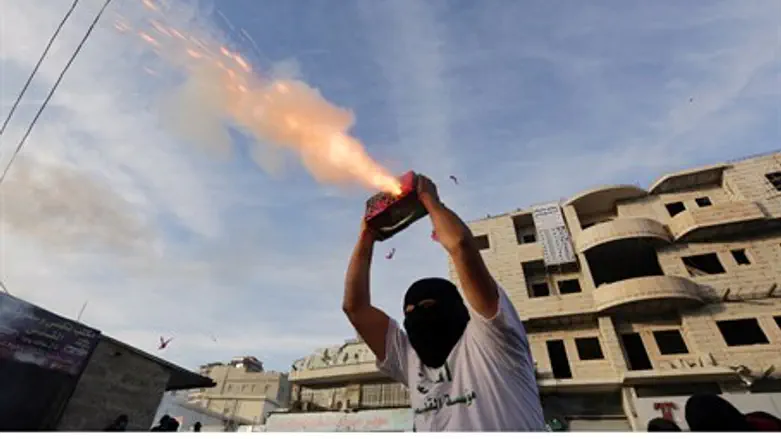 Arab rioter shoots fireworks at police in Jer
Sliman Khader/Flash 90
Arabs in Israel began to riot Saturday after police shot and killed of 22-year-old Hir Alhamdan, a resident of Kafr Kana in the Galilee. Alhamdan had lunged at a police car and repeatedly made stabbing motions toward the car's window.
The apparently crazed man attacked the police vehicle Friday night, as Nazareth police entered Kafr Kana to arrest a person suspected of throwing a stun grenade in the course of a family feud.
Police originally claimed that policemen fired in the air before shooting the man and that he posed a threat to the policemen's lives when he was shot. Security camera video shows, though, that this is arguable, although it is clear he did behave in an exceedingly threatening way seconds earlier. The wider context in which the incident occurred is not shown in the video.
About 5,000 residents of Kafr Kana demonstrated Saturday in protest of the shooting. Dozens of youths set tires alight and hurled rocks and firebombs at police. Some bore signs saying "His only crime was being an Arab," and others shouted "Zionists, get out of our lives."
Heating things up were Sheikh Raed Salah, who heads the Northern Wing of the Islamic Movement in Israel, MK Muhammad Barakeh and ex-MK Taleb a-Sana. The rioters claimed that the 22-year-old was shot when he was trying to run away from the police.
One hour after the riot, two forest fires broke out – at Akada and Mei Ami near Umm el Fahm and the suspicion is that they were acts of arson carried out in revenge for the young man's death.
The Supreme Monitoring Committee of Israel's Arabs called for a general strike Monday in the Arab sector. Riots are expected in the Triangle region, the north, the Galilee and and Wadi Ara.