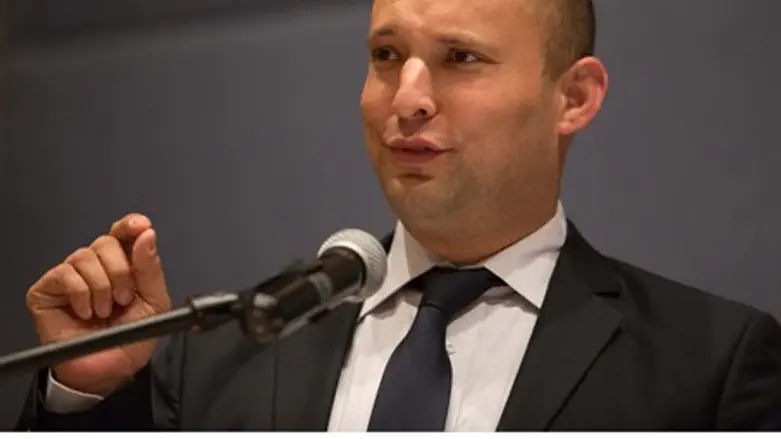 Naftali Bennett
Noam Revkin Fenton\Flash 90
Jewish Home Chairman, Economics Minister Naftali Bennett, issued a call Saturday night to support the policeman who shot dead an Arab from Kafr Kana in the Galilee, after the man repeatedly lunged at a police car with a knife in his hand.
"A crazed Arab terrorist attacked our policemen's vehicle with a knife, in an attempt to murder them," said Bennett. "A policeman shot him. That is what is expected of our security forces."
Bennett reacted to the Justice Ministry's Police Internal Investigations Department (Machash) statement that it would immediately launch an inquiry into the event. "Inquiring can and should always be carried out," he said. "But [this was] not 'murder on cold blood' and the security forces men who are sent to protect us must not be abandoned. If we do not give them support, we will see more and more Israelis murdered with knives, fireworks and vehicles."
MK Yoni Chetboun (Jewish Home) also voiced support for the policemen, and cited the Jewish precept – "When someone comes to kill you, kill him first."
"Muslim fundamentalism is a problem that crosses borders and we must stop it fast and with force," he opined. The members of the Arab sector who want to live under radical Islam "are invited to emigrate to Iran, Iraq or Syria," he added. "We will not tolerate it."
Meretz head MK Zehava Galon criticized the policemen's behavior and said that a similar incident would not have taken place in Tel Aviv or Raanana, which are predominantly Jewish. "The policemen have the right to protect themselves," she explained, "but they must respect the law and take action to neutralize the event, not shoot to kill."
"I regret to say that the norm in the police is a light finger on the trigger when it comes to Arabs," she said.