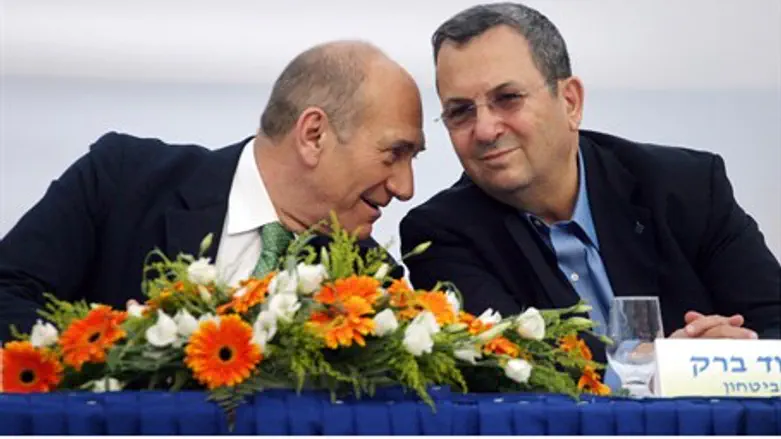 Olmert and Barak
Orel Cohen/Flash 90
In new recordings revealed on Friday by Channel 10 News, former Prime Minister Ehud Olmert is heard claiming to his close aide, Shula Zaken, that former Defense Minister Ehud Barak was "taking millions in bribes".
The recordings that were published Friday are of conversations with Olmert that Zaken had recorded and which prosecutors allege contain damning evidence that may lead Olmert to be convicted on charges he previously was acquitted for.
Some of these recordings were played in court this week as Zaken testified against Olmert, as part of a plea bargain she signed several months ago. Zaken, who turned state's evidence against Olmert, agreed in turn to serve 11 months in prison for her part in the Holyland scandal.
In the recording that was broadcast by Channel 10 on Friday, Olmert is heard telling Zaken the following about Barak:
Olmert: You know that Barak asked for the Audi A8. You know why.
Zaken: Why?
Olmert: Because I have an Audi, 12-cylinder... It's only out of jealousy, only out of jealousy because I have an Audi A8, so this crazy guy wanted one too. But he will end up in prison. Remember what I'm telling you Shula...The head of the Mossad came to me...they all come to me...he takes bribes worth millions and tens of millions...
Zaken: Where is the money?
Olmert: He hides it....in Switzerland or somewhere...
It should be noted that Barak is not currently under investigation for any wrongdoing, nor is there any evidence that he has any bank accounts in Switzerland.
Responding to the recording, Barak told Channel 10 News, "There is no foundation for this. It is folly that is unworthy of a response, and certainly these days. One does not judge a person in times of sorrow."
(Arutz Sheva's North American desk is keeping you updated until the start of Shabbat in New York. The time posted automatically on all Arutz Sheva articles, however, is Israeli time.)