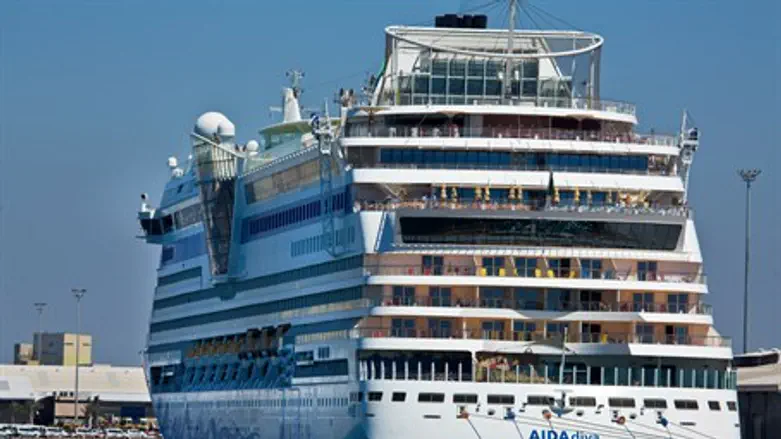 Cruise ship (illustration)
Moshe Shai/Flash 90
If you're on your way to Syria or Iraq to wage jihad Islamic holy war for the Islamic State (ISIS) terrorist organization, why not do it in style in a cruise ship?
Apparently that's what more and more foreign jihadists are thinking, with many of them coming from seaside resort tourist attractions.
Interpol officials revealed the new cruise ship trend to the Associated Press, noting the phenomenon is relatively new having sprouted up in the last three months.
Aside from sailing in the lap of luxury, the jihadists apparently seek to avoid security efforts by traveling in the ships according to Pierre St. Hilaire, director of counter-terrorism at Interpol.
"Because they know the airports are monitored more closely now, there's a use of cruise ships to travel to those areas," St. Hilaire told Associated Press on Thursday. "There is evidence that the individuals, especially in Europe, are traveling mostly to Izmit (a coastal town in Turkey - ed.) and other places to engage in this type of activity."
In order to combat the new terror travel threat, Interpol is launching a pilot program known as I-Checkit to have airlines bounce passenger information through Interpol's databases. Plans are to expand the system to include cruise operators, banks, hotels and more.
Assessing the danger, St. Hilaire stated "it's a global threat - 15,000 fighters or more from 81 countries traveling to one specific conflict zone." He added that there are roughly 300 ISIS jihadists who came from China.
From seaside paradise - to jihadi "paradise"?
Not only are more and more jihadists traveling to join ISIS on cruise ships, they also are largely coming from the north African Muslim country of Tunisia - and particularly from the tourist seaside resort town of Sousse.
According to analysts who spoke to Al Jazeera, Sousse has provided up to 1,000 jihadists to Syria and Iraq, and Tunisia is perhaps the leading source of foreign jihadists in Syria, with figures by April already being as high as 3,000 Tunisian jihadists.
The Qatar-based paper noted that within Sousse certain neighborhoods such as Al-Qalaa Al-Kubra, Al Riyadh and others are centers of jihadist recruit, and likewise are sites of clashes between the jihadists and state authorities.
Many of the recruits are not particularly religious, although most are young Muslims who recently rediscovered their Islamic faith, according to an analyst who spoke to the paper.
He added that they are recruited through "religious rhetoric that combines sermonizing with stories of the suffering of Muslims around the world," and that the message is spread over the internet.
In most cases the jihadists reach Syria or Iraq by leaving for Turkey, where they can enter without a visa. Some go to Libya first to participate in military training before joining the jihad.
While most of the jihadists from Sousse die or go missing, a large number have reportedly returned to Tunisia and evade prosecution.