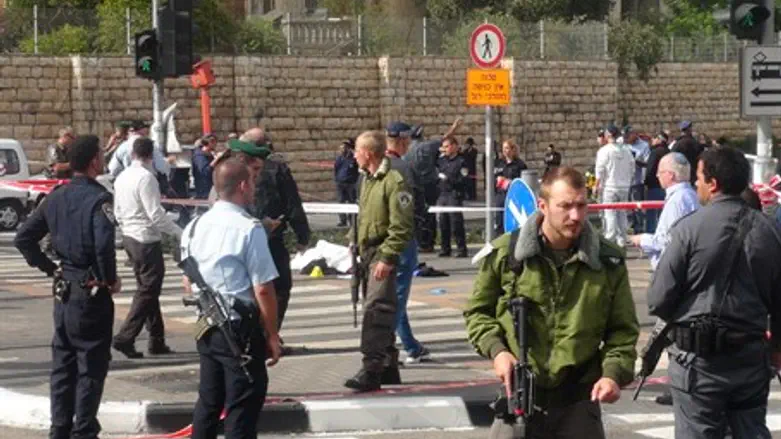 Scene of Jerusalem attack
Yoni Kempinski
The Anti-Defamation League (ADL) issued a statement condemning Wednesday's car terror attack in Jerusalem. 
A Palestinian man from eastern Jerusalem drove his van into multiple crowds, killing Israeli Border Patrol officer Jedan Assad and injuring 13 others. The terrorist then exited his vehicle and began attacking people with an iron bar, before being shot and killed by police.
In addition to the afternoon attack, late Wednesday night, a terrorist driving a Palestinian Arab commercial vehicle attempted to run over IDF soldiers as they were on duty near a guard stand outside of Kafr Al-Arub. Three soldiers were injured in that attack, two seriously. 
Responding to the violence, the ADL, in its statement, urged Palestinian Authority (PA) President Mahmoud Abbas to categorically condemn the acts of violence and refrain from using such attack to further incite passions and hatred.
Abbas and the PA, however, have been more concerned with fueling tensions and blaming Israel in recent weeks. 
Earlier in the week, Abbas sent a condolence letter to the family of Muataz Ibrahim Khalil Hijazi, the would-be assassin of Temple Rights activist, Yehuda Glick. 
Abbas expressed his "anger and condemnation after news of the criminal, despicable assassination by the Israeli occupation army's terrorist gangs of Muataz Ibrahim Khalil Hijazi, who died a martyr defending the rights of our people and the holy places." 
Additionally, hours after Wednesday's first attack, PA envoy to the United Nations, Riyad Mansour called on the Security Council to "adopt a position to call on the Israeli government to stop all these activities and policies of provocation and incitement."
Abraham H. Foxman, ADL National Director, wrote in the statement:
"We strongly condemn this terror attack in Jerusalem, in what appears to be another effort by extremists to further inflame tensions across the city. President Abbas must quickly and unequivocally condemn this senseless act of violence, which is something he has failed to do following previous terror attacks in recent weeks, and refrain from using these events to further inflame tensions between Jews and Arabs in Jerusalem."
"Silence from President Abbas on these incidents suggests an indifference to Palestinian terrorist activity directed at Israel, and raises questions about his commitment towards achieving a peaceful resolution to the Israeli-Palestinian conflict."
"Our thoughts are with the family of Jedan Assad, and we hope for a quick recovery for all who were injured in this horrific attack."