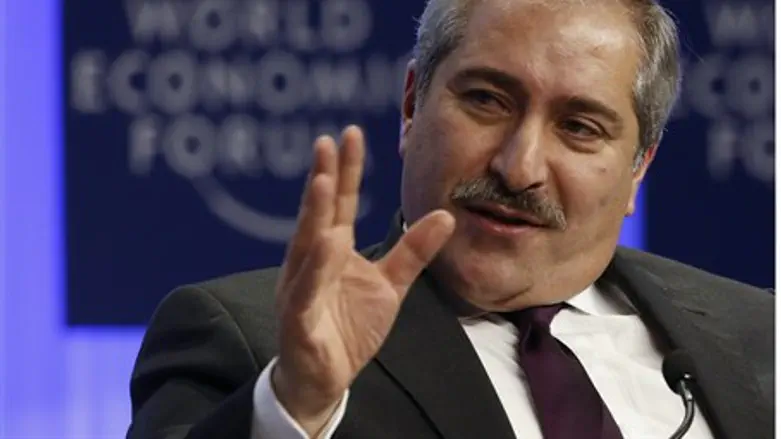 Jordan's Foreign Minister Nasser Judeh
Reuters
Jordan's Foreign Minister, Nasser Judeh, said on Wednesday that the Kingdom had withdrawn its ambassador from Israel because the goings on at the Al-Aqsa Mosque were "beyond the limits".
Speaking in Paris before a meeting with U.S. Secretary of State John Kerry, Judeh said, "We have sent repeated messages to Israel directly and indirectly that Jerusalem is a redline, and these continuous violations and incursions and stopping people from worshipping freely and allowing extremists to come in under the protection of Israeli police and so many other violations, we have said that this is a redline."
"And Jordan, His Majesty The King, is the custodian of Christian and Muslim holy places in Jerusalem, and these violations are infuriating the emotions and the sensitivity of 1.5 billion Muslims around the world," he declared.
"So I think this was a clear message today that recalling our ambassador for consultation is an indication of the seriousness of the situation. Calm has to be restored, Israel has to respect the sanctity of the holy sites, and I think this will resonate today," said Judeh.
The Jordanian state news agency Petra reported earlier Wednesday that Jordanian Prime Minister Abdullah Nsur had asked Judeh to "recall the Jordanian ambassador from Tel Aviv in protest of "Israel's escalation on the Al-Aqsa mosque compound," the
The announcement was made shortly before a terrorist attack in Jerusalem, in which one person was killed and at least 13 injured.
The Jordanian government has made several threats to Israel against allowing Jews to set foot on the Temple Mount - Judaism's holiest site.
The Waqf Islamic trust, to which Israel handed over administration of the Temple Mount, is run by Jordan, and the Jordanian government has led pressure against any Jewish prayers being conducted on the Temple Mount, with Jordan's King Abdullah II recently vowing to fight any attempts to implement equal prayer arrangements for Jews.
Despite the ongoing restrictions on Jewish prayer at the holy site, Jordan continuously claims that Israel allows "Jewish extremists" onto the Temple Mount.
Prime Minister Binyamin Netanyahu recently declared his intention to maintain the "status quo" at the site, whereby Jews are forbidden to pray as a response to Muslim pressure. The PM emphasized that Jews would continue to be allowed to visit, but than a ban on praying would remain.