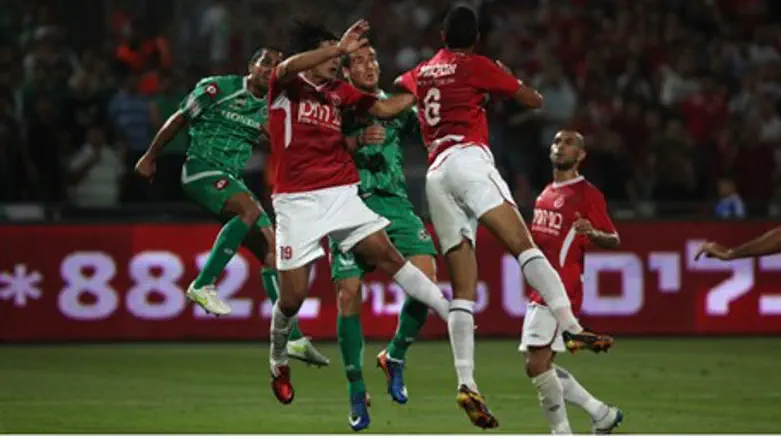 Soccer game (illustrative)
Flash 90
The Israeli Premier League decided on Tuesday evening that games will not be suspended, despite calls to do so in the wake of Monday's violent brawl during the Tel Aviv derby, in which a fan of the Hapoel Tel Aviv soccer club attacked opposing Maccabi Tel Aviv player Eran Zehavi.
Yoram Bauman, chairman of the Premier League said that the heads of the teams in the league were unanimous in their opinion that both Maccabi and Hapoel Tel Aviv did their part to secure the game.
"1,200 eyes secured the game and the teams stood helpless in front of hooligans who attack the sport we all love," he said.
According to Bauman, the reason that the games will not be suspended is because the violence was not the fault of either team, but rather "the incompetence in law enforcement by the courts and the police is the main problem."
Hapoel fan Elroi "Fuad" Yadai, a 32-year-old resident of Bat Yam located south of Tel Aviv, has been identified as the fan who attacked Zehavi.
Police said mere hours after the attack that Yadai had planned his incursion in advance, and aimed to create a provocation with Zehavi.
On Tuesday, Yadai's detention was extended by three days at the Tel Aviv Magistrates Court. Outside the courthouse, clashes broke out between Hapoel and Maccabi fans, with three fans being arrested - including the son of MK Dov Khenin of the Hadash party.