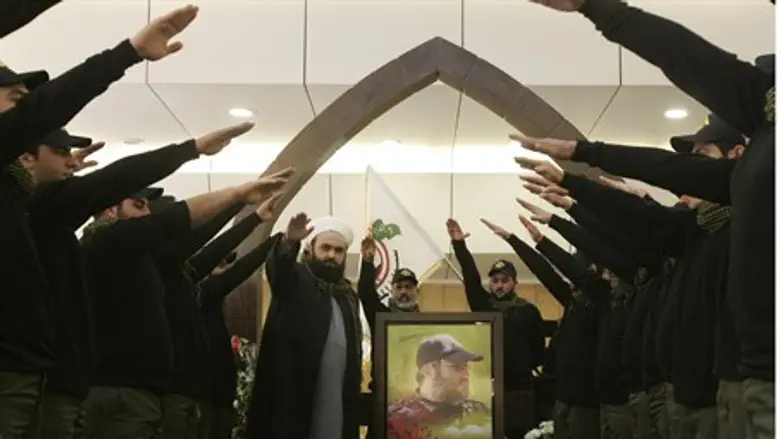 Hezbollah members salute fallen terrorist (fi
Reuters
French Foreign Minister Laurent Fabius announced on Tuesday that his country and Saudi Arabia have signed an arms deal, by which France will receive $3 billion to send weapons to the Lebanese army - weapons that some fear may fall into Hezbollah hands.
"This agreement, financed by a Saudi grant, will contribute to strengthen the Lebanese army, which guarantees the unity and stability of Lebanon," said Fabius, giving no further details as to what weapons would be included in the package. Reuters reports those details are to be given by the French Defense Ministry on Wednesday.
The US has already spent over $1 billion since 2006 to train and provide equipment for Lebanon's army of 65,000, in a bid to bolster its standing vis-a-vis the Iran-proxy terror group Hezbollah.
Despite those efforts, the Shi'ite group Hezbollah has wielded great authority over the army of the former French colony, and in fact there is a deep military cooperation between the groups.
"In the eastern Bekaa area, the LAF (Lebanese Armed Forces) is playing a direct support role for Hezbollah operations, and, for example, they will deploy to areas that Hezbollah has cleared and then set up checkpoints," Tony Badran, a Middle East analyst at the Washington-based Foundation for Defense of Democracies, told the Washington Post.
US officials revealed last week that US President Barack Obama's administration has been growing closer to Hezbollah, with US intelligence agencies giving information about Al Qaeda-linked groups operating in the country to Lebanese security agencies close to or controlled by Hezbollah, including the General Security Directorate.
The revelation shows how embedded Hezbollah is in the Lebanese security system.
It also confirms statements in September by Lebanese experts who said America is indirectly giving Hezbollah military aid, with new weapons being sent to the Lebanese army that coordinates with Hezbollah, and US intel finding its way to the group.
The arms deal announcement on Tuesday comes a day after Hezbollah leader Hassan Nasrallah made a rare appearance in which he threatened Israel, saying in the next war his rocket barrages would close Israeli sea and airports.
"We are not afraid of war. We are a true threat on Israel and we aren't deterred by their threats. Their threats aren't based on military strength, but rather on their lost hope," threatened Nasrallah.
Transportation Minister Yisrael Katz (Likud) fired back on Tuesday evening, saying "the boastful coward Nasrallah should know: an option like that doesn't exist as far as we're concerned. If a scenario like that happens, we will destroy Lebanon to its core, and return it to the stone age - and him (Nasrallah) under the stones."
The announcement Tuesday also comes the same day that French socialist lawmakers submitted a motion to vote on recognizing the Palestinian Authority as the "state of Palestine," in a moving following in the footsteps of the UK and Sweden.