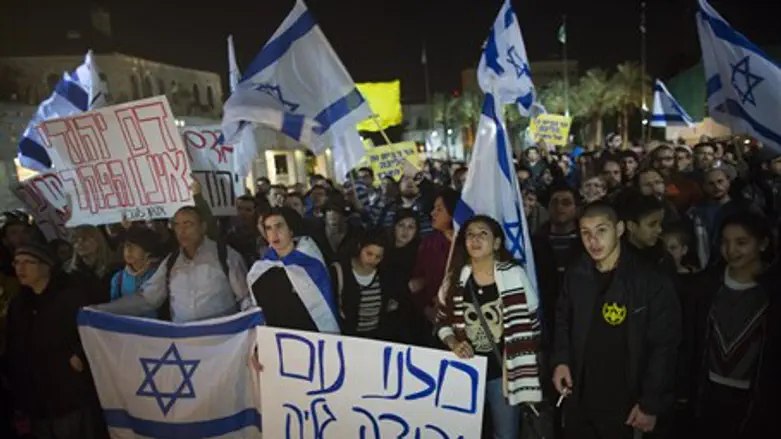 Protest for Yehuda Glick
Yonatan Sindel/Flash 90
In response to the assassination attempt on Temple Mount activist Yehuda Glick's life last Wednesday, a march will be held this Thursday leaving from in front of the Begin Heritage Center where the shooting occurred to the gates of the Temple Mount.
The march will start at 5 p.m. at the Center under the title "Our Jerusalem," where several noted rabbis and public figures will speak before setting off with flags of the Holy Temple.
After walking through the capital city, the march will conclude at the entrance to the Temple Mount - the holiest site in Judaism - where participants will join in a mass prayer for the recovery of Glick.
The demonstration has been coordinated with the police, and is organized by the "Noar Derekh Chaim" movement, the "United Jerusalem" party which is part of the local Municipality coalition, the "El Har Hamor" union that holds activities around the Old City gates, and the youth movement "Beit David."
In particular, the event focuses on collapsing Jerusalem security, highlighted not only in the assassination attempt but also the terror attack the week before it, in which a three-month-old girl and 22-year-old woman were murdered by an Arab terrorist who rammed his car into pedestrians at the Ammunition Hill light rail station.
Glick's wife Yafi on Monday asked the public to pray for his recovery ahead of an important fourth surgery that would determine if he could be taken off of artificial respiration, noting that his recovery from the four gunshots thus far has been a "miracle." His condition, while still being critical, has stabilized after surgeries that removed part of his lungs and intestine.
Hundreds gathered in Jerusalem's Safra Square on Saturday night to pray for Glick's recovery, and his son Shahar was allowed to pray for his father's recovery on the Temple Mount on Monday, according to an eyewitness. Jews have been forbidden from praying at the Mount by the Jordanian Waqf (Islamic trust), a discriminatory status that Glick has been leading the struggle against.