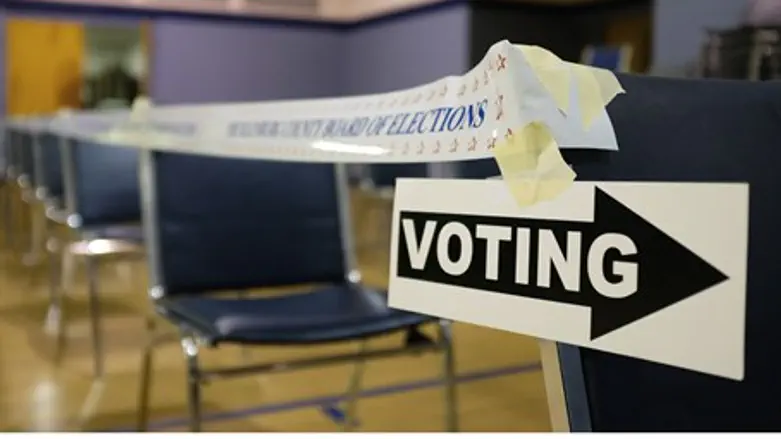 Republicans are expected to strengthen their
Reuters
Tensions are high on Capitol Hill on Tuesday, as the final votes are being tallied for the 2014 mid-term congressional elections. 
To explore what a Republican sweep in both House and Senate could mean for US President Barack Obama, as well as the future of Israel and Iran, Arutz Sheva spoke to Ret. Amb. Yoram Ettinger, an expert in American-Israeli affairs.
"The Republicans may gain a major position in the Senate and expand their control of the House," Ettinger said, "and if they do, the President will be transformed into a 'lame duck' [an elected official rendered powerless near the end of his or her term - ed.]." 
A major factor in the vote will be the "turnout machine," according to Ettinger: the drive for hundreds, if not thousands, of voters to "turn out" at the polls to support a party or candidate far beyond the normal or projected voter turnout. 
"In 2012, the Obama machine turned out an unprecedented number of votes for the Democratic party," he noted, adding that a large Democratic turnout may "upset all the polls." 
"Assuming the Republican (party) becomes the majority party in both Senate and House, Congress will severely limit the President - in domestic issues, the international arena, and national-security wise," Ettinger continued - and that limitation includes maneuverability with Israel and the Palestinian Authority (PA).  
"A Republican majority in both houses will pose a problem for the President as far as foreign aid to the PA, which is involved in hate education and incitement, and is part of the terror organization with Hamas," he said. "Republicans would tend more than Democrats to use foreign aid as leverage against the PA."
Iran will also be an issue. 
"Should the President press ahead with the goal of an [international peace] agreement - regardless of whether it's good or bad - with Iran, Congress may forestall any agreement," Ettinger stated, adding that the core issue would be continuing - or rescinding - sanctions against the Islamic Republic. "The President would be forced to turn to Congress to rescind those sanctions. Even without a [Republican] majority in the Senate, I can't see the House going along with the request to terminate sanctions for an agreement with Iran." 
Ettinger also noted that - as was proposed in a Tuesday morning Washington Free Beacon report - Obama may try to bypass opposition to a deal. 
"Arm-wrestling is part of the American system," he said. "But Congress has the muscle to overturn Executive orders, if they so choose." 
Even if the President does attempt to strike a deal without consulting Congress - and Ettinger "has no doubt" that he will - Obama would not be able to maneuver a deal without rescinding sanctions via a congressional vote, and that is the deciding factor. 
"Iran is not going to sign a deal with the US until sanctions are lifted," he said. "This is a Legislative [branch] test: will they choose to uphold Americans' legislative rights under the Constitution, or choose not to?"
Ettinger noted that much of what happens on Capitol Hill is less the product of Obama's ideologies regarding a particular issue, and more the result of a negotiating process between his own or his Administration's views and the conditions for a consensus in Congress - and that Democrats had gone to bat for Israel as much as Republicans. 
"Only recently, the President tried to link the acquisition of already-appropriated funds for the Iron Dome battery to a highly controversial Immigration bill," he noted. "[On] the Friday morning of the war, [Obama] convinced [Senate Majority Leader] Harry Reid [D-NV] to [support] the bill. But within a few hours, [Senate Appropriation Committee Chairman] Senator Barbara Mikulski [D - Maryland] and a few other [Democrats] called the White House, saying that such a linking could undermine cooperation on Capitol Hill." 
"Certainly, any step to intensify pressure on Israel could be intercepted by Congress, as we have seen already - even without a Republican majority," he continued. "In 2011, the President and then-Secretary of State Hilary Clinton intended to condemn Israel in the UN Security Council because of 'settlements.' Hilary delivered a very brutal anti-settlement speech in the UN General Assembly."
The condemnation was averted, however, by the threat of a US veto, after "Democratic Senators made very clear that a condemnation would jeopardize cooperation," Ettinger said. 
Another example: "In 2009, after being elected for his first term, Obama wanted to appoint Charles Freeman to chair the National Intelligence Council, which required the Senate's approval," Ettinger said.
Democrat senators, however, opposed the appointment, due to Freeman's political history, including lobbies for China and Saudi Arabia. 
"After two weeks of attempting to push the nomination, he withdrew, due to pressure from Democrats in the Senate," he noted. 
Now, Ettinger said, Obama's "maneuverability may be even lower," due to the possibility of Democrats becoming a congressional minority - and Obama's drive to "leave a legacy" before leaving office. 
To leave that legacy, Ettinger said, Obama must ensure bipartisan cooperation on Capitol Hill. 
"[Obama] cannot have cooperation with Democrats on the Hill on one hand, and bully Israel on the other," Ettinger said. He added that Israel has "enjoyed bipartisan support, from both the public and on Capitol Hill" since 1948 - even if the White House tends to work as an opposing force, exerting pressure on Israel regardless of that support. 
Ultimately, that could work to Israel's advantage, he said. 
"Today, Capitol Hill and the public are highly polarized along political lines, including immigration, Obamacare, clean air, border security, and other issues," according to Ettinger. "There are very few issues of consensus, and Israel is one of them."