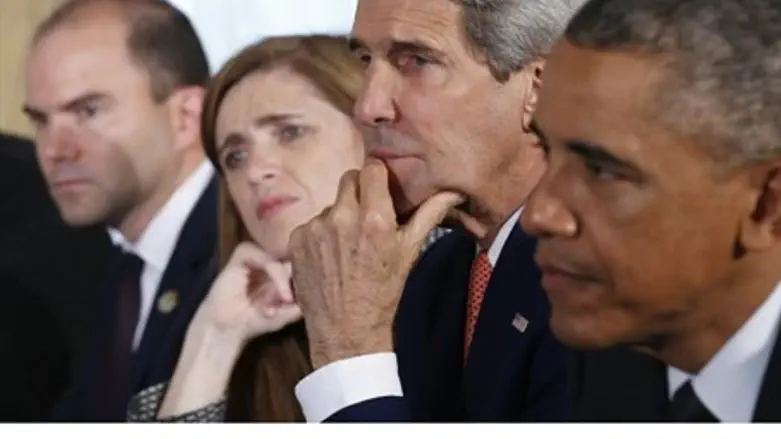 Ben Rhodes at left, Power, Kerry, Obama.
Reuters
Statements by a top White House official indicate that President Barack Obama sees achievement of a nuclear deal with Iran as the most important mission on the agenda for his second term.
The Washington Free Beacon reported that Deputy National Security Adviser Ben Rhodes was caught on tape lecturing to "private" meeting of top liberal interest groups explaining that an Iranian Nuclear-deal was our "healthcare" or "Obamacare" achievement, and Obama was trying to "structure a deal so that we don't necessarily require (starts laughing) legislative action anyway."
In the tape, which we provide above, Rhodes is heard saying, that the "Bottom line is, this is the best opportunity we've had to resolve the Iranian issue diplomatically, certainly since President Obama came to office, and probably since the beginning of the Iraq war. And, So no small opportunity, it's a big deal. This is probably the biggest thing President Obama will do in his second term on foreign policy. This is healthcare for us, just to put it in context."
The "healthcare" legislation Rhodes is referring to is "Obamacare," President Obama's signature legislation that has proved controversial, difficult to implement, and whose future is far from certain.
Also, after generally explaining that President Obama may receive political flak from his own Democratic Party over an Iranian nuclear deal, Rhodes is heard stating that, "and we [the Obama Administration] are already, kinda, picking through [analyzing] how do we structure a deal so that we don't necessarily require (starts laughing) legislative action anyway. Um, And there are ways to do that."
What Rhodes is referring to is that under the Unites States Constitution, all treaties are required to be ratified by the U.S. Senate. Therefore, Rhodes means that President Obama is attempting "to structure a deal" which would evade the legal requirements of being ratified or reviewed by the U.S. Senate or Congress.
His "Obamacare" analogy appears to indicate the degree to which Obama is willing to confront Congress, including critics inside his own camp, to push through the deal that he sees fit.
The New York Times wrote two weeks ago that the White House has made "one significant decision: If agreement is reached, President Obama will do everything in his power to avoid letting Congress vote on it."
"Even while negotiators argue over the number of centrifuges," wrote the paper, "Iran would be allowed to spin and where inspectors could roam, the Iranians have signaled that they would accept, at least temporarily, a 'suspension' of the stringent sanctions that have drastically cut their oil revenues and terminated their banking relationships with the West, according to American and Iranian officials. The Treasury Department, in a detailed study it declined to make public, has concluded Obama has the authority to suspend the vast majority of those sanctions without seeking a vote by Congress, officials say."