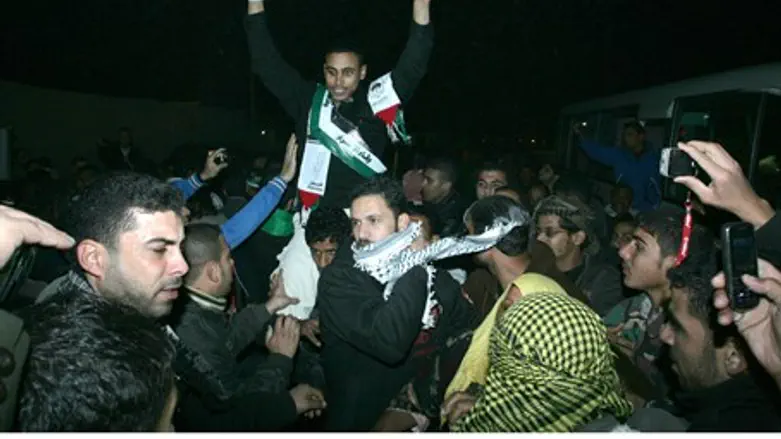 Terrorist released in 2011 Shalit deal (file)
Flash 90
The Knesset approved Monday night in the second and third readings the "terrorist law" or "life without parole" bill initiated by MK Ayelet Shaked (Jewish Home) last year. 
The law changes one of the Basic Laws of Israel, which forms the basis for the formation and role of Israel's institutions, and the relations between the state's different ministries and authorities.
The Basic Law of the President of the State, passed in 1964, allows the President to pardon criminals - at least until now.
The new amendment changes this rule, preventing any convicted terrorist from being pardoned for his crimes under certain conditions. 
The amendment allows the judges of the court during trials for nationalist murders, terrorist activity or any other heinous crime, to negate at the time of sentencing the possibility of providing future amnesty.
The explanatory section to the bill notes the fears many have had that the releases have set a precedent enabling more terrorism.
"In recent years, the State of Israel released a large number of terrorists as part of prisoner release transactions or a policy of gestures. The reality has led to an absurd situation in which terrorists who committed murder as part of their struggles against Israel are released a long time before the end of their sentence. This fact constitutes a moral failure and contempt for the severity of terrorist acts and the authority of the judicial system."
Shaked first proposed the bill in December, but the initiative has faced numerous political and technical setbacks.
In May, a Ministerial Cabinet approved the bill by a landslide vote, only for the law to be vetoed at the last second by Yesh Atid MK Ya'akov Perry. 
That ruling was overturned one month later, however, after the law was approved by a special government session, in a last-minute move decided by Prime Minister Binyamin Netanyahu.