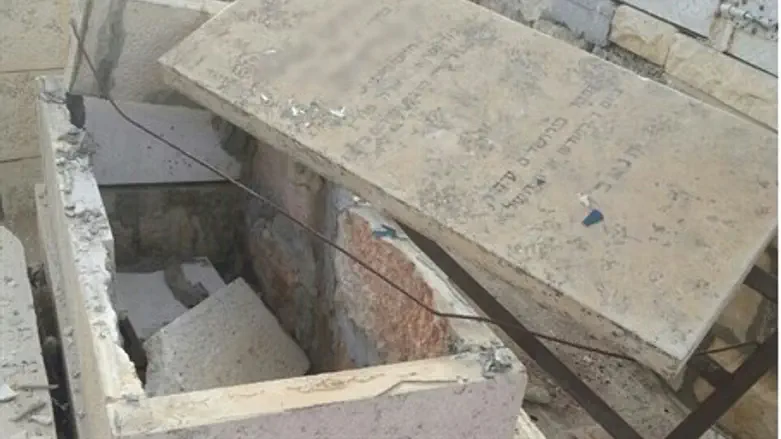 Desecrated Mount of Olives graves
Police Spokesperson Unit
Police have finally arrested some of the culprits behind the constant desecration of the Mount of Olives Jewish cemetery, thought to be the oldest cemetery still in use in the world, as three Arab suspects were arrested on Monday on suspicion of destroying graves.
The three suspects, aged 22, 15-and-a-half and 12, are residents of the north-eastern Jerusalem neighborhood of A-Tur, and are thought to have destroyed graves at the site over the course of the past month. Security cameras at the cemetery have also been destroyed, and fires set on the tombs of hassidic leaders.
On October 12 dozens of graves at the cemetery were uprooted and smashed, and following the event police launched an investigation that led to the arrest today.
The vandals admitted to the October 12 attack on the graves under investigation, and other sources tied them not only to that event but also to additional acts of vandalism in which they destroyed graves. 
The oldest of the suspects denied involvement, but evidence that was gathered by police connects him to the events.
According to the results of the investigation, the three would meet in the late evening hours at the cemetery, and use bricks and rocks to break the gravestones.
The 12-year-old suspect, who was brought in for questioning accompanied by his parents, was sent home under restrictions and a report about him was sent to welfare officers. The other two older suspects were to be brought on Monday at 1 p.m. for a discussion on an extension of their detention at the Jerusalem Magistrates Court.
Jerusalem Councilman Arieh King, who lives in Ma'ale Hazeitim on the Mount of Olives, told Arutz Sheva last Sunday that all members of the government are to blame for the lack of security at the cemetery.
King detailed the massive breakdown in law enforcement in the neighborhood, saying the solution is for the government to "allow Jerusalem police officers to act like officers and not like kindergarten teachers."