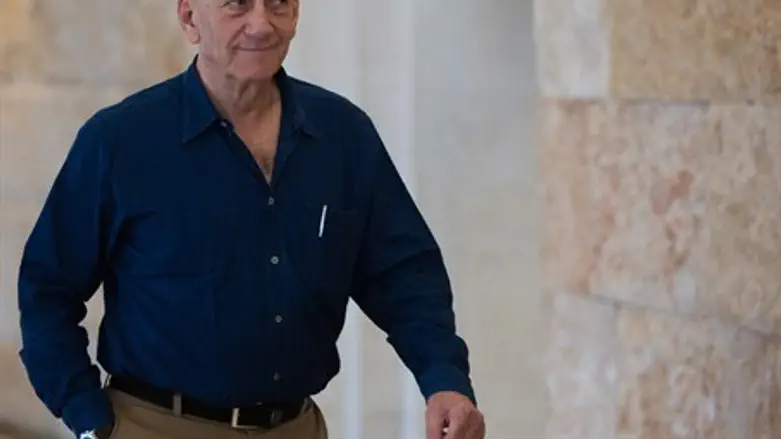 Ehud Olmert
Yonatan Sindel/Flash 90
The corruption trial of former Prime Minister Ehud Olmert continued on Monday morning with the testimony of his former aid Shula Zaken, as new recordings were played that may lead Olmert to be convicted on charges he previously was acquitted for.
Zaken, who is serving 11 months for taking bribes as decided in a plea bargain, was brought to the Jerusalem court to testify in the infamous Holyland corruption affair in which city building statutes were broken - reportedly in return for hefty kickbacks.
Recordings of conversations between Olmert and Zaken were played for the first time in court on Monday, in which a different picture was presented from that in which Olmert was earlier acquitted of bribery charges, instead being indicted on obstruction of justice and witness tampering.
In one recording Olmert is heard telling Zaken "I'm just telling you one thing: take it (the blame) on yourself, leave me out...I'm not asking you to admit to anything, I'm not asking you to do something that will harm you, but you need to understand one thing, the moment it comes out that I gave you cash - $30,000 - or the moment it comes out that I knew from you that (Samuel) Dachner is giving a donation, it means that I'm an accomplice to bribery. Period. That's it."
"If you received it yourself and didn't tell me, what crime did you do?" Olmert tried to reason in the recording. "But the moment that I knew this issue - that's all they want, and you need to understand that."
In another recording, Olmert is heard telling his former aid "this week, G-d willing, I need to receive $125,000, I hope to transfer part of the cash, not this week but next Friday, and that - you'll decide how much to give him. Okay?"
Olmert is heard asking Zaken not to testify and incriminate him in another recording, in which he warns "he'll murder you and you will incriminate yourself on the witness stand, that's what terrifies me."
"I'll tell you what, he'll say something very simple, you know what? The appointment entries that you wrote...it could be that...you wrote it, someone wrote it for you in the schedule, and in the end you'll have to admit that you wrote it, and then he'll say from it that I took $35,000 dollars. What will you say?"
"Then he'll say 'you took for yourself $35,000 dollars.' Now what's the problem? You don't go on the witness stand, he can jump and do dances in the air, he can't convict you, he can't present that with these charges," said Olmert.