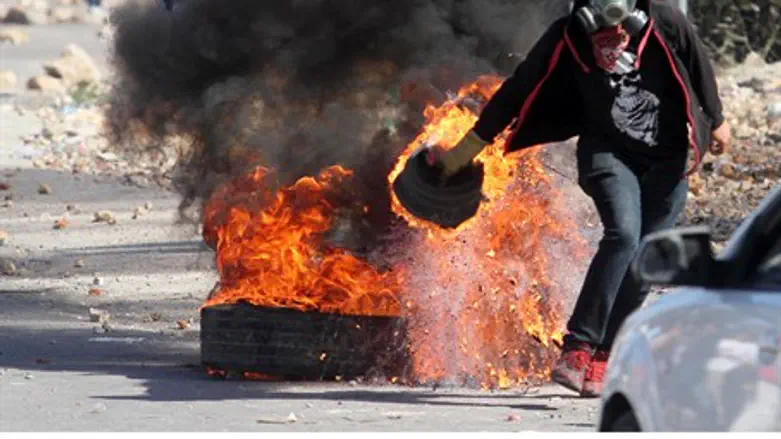 Arab rioter (file)
STR/Flash 90
An Israeli woman says she's "lucky to be alive," after surviving a violent ambush by dozens of Arab rioters on her way from Jerusalem to her home in the Judean town of Betar Illit.
66-year-old Riva Schertzman told Arutz Sheva how she was driving south along Route 60 from the capital early Sunday afternoon, when she passed by the Arab town of Husan. As she navigated the winding road she was suddenly confronted by a terrifying scene: dozens of masked Arab rioters, armed with massive rocks, waiting at the side of the busy road.
"I saw a lot... about 40 of them... and I thought, 'oh no, I'm in trouble'."
With cars behind her and unable to turn around, Riva said her only option was to put her foot on the gas and drive as fast as she could. She sounded her horn in a desperate attempt to alert other drivers to the ambush - and then was herself subjected to "the most terrifying experience I have ever been through."
"I just took my hand and covered my head and just rode, ducking, with my hand on my head.
"The sensation was like... it was literally like a rain of rocks. Pieces of construction material - big rocks, even bricks," she recalled.
"There must have been 20 rocks bouncing off my car. I have never experienced such a terrifying moment like that... I was fortunate that they didn't block the road as well or God knows I wouldn't be talking to you now."
Her car suffered severe damage but - though shaken - Riva's quick thinking helped her avoid any physical injury. 
But it could have been much worse. Rocks had shattered through her back windows - some with such force that they damaged the windows on the other side of the car - precisely where her elderly parents-in-law were meant to have been sitting at the time, but were not due to a last-minute change of plan.
"They would have been killed, no question," she says.
Others targeted by Arab extremists in the same spot have not been so lucky. In August, another Betar Illit resident suffered first and second degree burns after his car was hit with a molotov cocktail.
Echoing similar testimony from Jewish victims of Arab riots in Jerusalem, Riva said the attackers were careful to pick out Jewish drivers and ignore Arabs - noting that an Arab driving in front of her was untouched by the mob. 
This is not the first time she has been targeted; in her 16 years living in Betar Illit, Riva says she has encountered similar violence on numerous occasions, and that her previous harrowing experiences helped her act with a relatively cool head during this latest attack. 
"I've had a firebomb thrown at my car - which fortunately missed me - I've had rocks thrown at my car, I've even once had a machine-gun fired at my car..."
"I've been through it so many times... after a while you get 'good at it', which is extremely sad.
"The worst part of it was... I was trying to take my phone out while I was driving, and trying to see if I'm safe yet to call the police because of the people behind me, who would be walking into an ambush. 
"I know there were plenty of cars behind me, so others were also attacked for sure."
After driving a while longer she finally reached Betar, where she immediately alerted security guards, who called the military.
Rocks smashed straight through her back windows
Riva Schertzman
Despite having been attacked before, Riva said it was the first such incident she had experienced in a while. She described Sunday afternoon's incident as the most terrifying yet, and said she felt "angry" at the sense of helplessness.
"There was literally nothing else I could do but drive through," she said, noting how if she had attempted to run over her assailants her car would have become trapped and quickly overwhelmed by the large mob. "There was no way I would survive - I would have been stoned to death."
The only solution to the violence, she insisted, was for authorities to "face the reality" and crack down hard. Reacting to months of similar calls for a hard line on violence, the Israeli cabinet Sunday passed legislation which would level stiff sentences of up to 20 years against rock-throwers.
But Riva says the slow reaction of authorities to the violence - which as been going on for months in and around Jerusalem - proves they are still detached from reality.
"I think they're not facing the reality that we have a war going on under our feet right now. It's literally a war against civilians - the're trying to kill us!"
She called on police to "declare war" in response and deal firmly with the perpetrators of violence, and urged the government to "implement full Israeli rule" throughout Judea and Samaria.
"They are indoctrinated with such tremendous hate... when they're
like this what hope is there to make peace?"
As for other motorists, Riva urged those living in Judea, Samaria and parts of Jerusalem affected by the violence to reinforce their car windows (as many already do) and, if they are unlucky enough to find themselves in such a situation: keep a cool head.
"The best thing to do is to focus... to think about getting free of danger. And hopefully God will help."