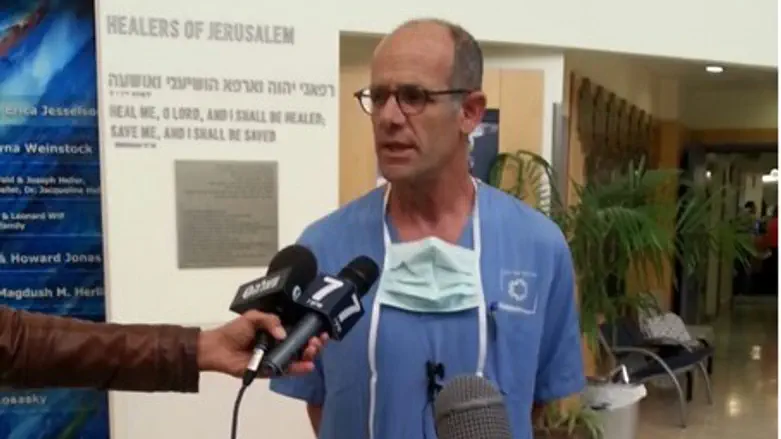 Shaare Tzedek Hospital updates Yehuda Glick's
Arutz Sheva
Doctors at the Shaare Tzedek Hospital in Jerusalem on Friday updated Arutz Sheva about the status of Temple Mount activist Yehuda Glick, who was shot by an Arab terrorist in the capital on Wednesday night.
Dr. Ofer Merin, deputy director of the hospital and director of its trauma clinic, explained how Glick's condition has stabilized over the last two days of treatment, and that he is currently undergoing a surgery to remove part of his intestine.
According to the doctor, Glick will undergo another surgery, the third so far, next Tuesday.
"He has very serious wounds, I hope these things will work out by the middle of next week," predicted Merin. "As times passes the danger decreases, he has great luck."
"The four bullets that punctured his body passed right by critical points, there was a hit on the lungs, a hit next to the spinal column, but damage was not inflicted on the spine," said Merin.
The doctor added that Glick is expected to be left with minimal disabilities from the assassination attempt.
"He apparently will be able to return to an almost fully normal lifestyle, but we aren't trying to jump to conclusions now," concluded Merin.
Reports earlier on Friday indicated Glick's condition had improved slightly overnight after he became more stable the night before, following surgeries removing part of his lung.
Islamic Jihad terrorist Mu'taz Hijazi shot Glick on Wednesday night as he left the Begin Heritage Center where he had spoken about the discrimination against Jewish prayer rights at the Temple Mount. Hijazi, who despite 11 years in jail for terrorism was employed by a restaurant at the Center, was later killed in a shootout with police.
Palestinian Authority (PA) Minister of Prisoner Affairs Issa Qaraqa on Thursday praised the terrorist as a "hero" who "defended freedom and dignity," an ironic statement given his shooting of a prayer rights activist.