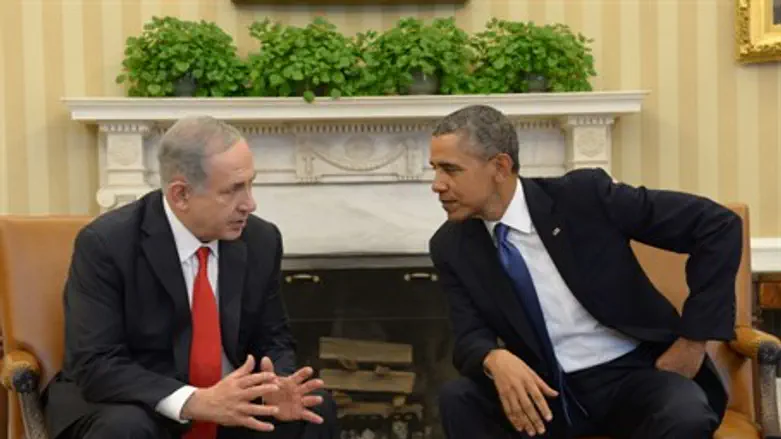 Netanyahu, Obama in the Oval Office (file)
Flash 90
An article published Tuesday in The Atlantic drew ire from Israeli officials, Republicans and supporters of Israel, after it quoted anonymous senior Obama administration figures describing Prime Minister Binyamin Netanyahu as "chickens**t."
But another part of the article has drawn offense from a different group entirely.
The author of the article in question, Jeffrey Goldberg, claimed he keeps a "running list" of the slurs and personal insults US officials use to describe Netanyahu, which he said include: "recalcitrant, myopic, reactionary, obtuse, blustering, pompous, and 'Aspergery.'"
The Ruderman Family Foundation, an American charity which advocates for and the inclusion of people with disabilities throughout the Jewish community, condemned the latter insult - a reference to Asperger Syndrome - as "derogatory," and called for an official denouncement of its use by the White House.
"In his article in The Atlantic, 'The Crisis in U.S.-Israel Relations is Officially Here,' Jeffrey Goldberg quotes an unnamed source in the Obama administration who refers to Israeli Prime Minister Netanyahu as 'Aspergery.'  
"While it is perfectly acceptable for people to be critical of each other, it is unacceptable to use a term of disability in a derogatory manner,"said Jay Ruderman, President of the Ruderman Family Foundation. "The term 'Aspergery' was used in a manner that is insulting to the millions of people around the world with Asperger Syndrome. It is never OK to insult someone by referring to them by using disability in a negative manner."
The Foundation further called on the Obama administration to release a statement denouncing the use of the name of a disability in a derogatory manner.