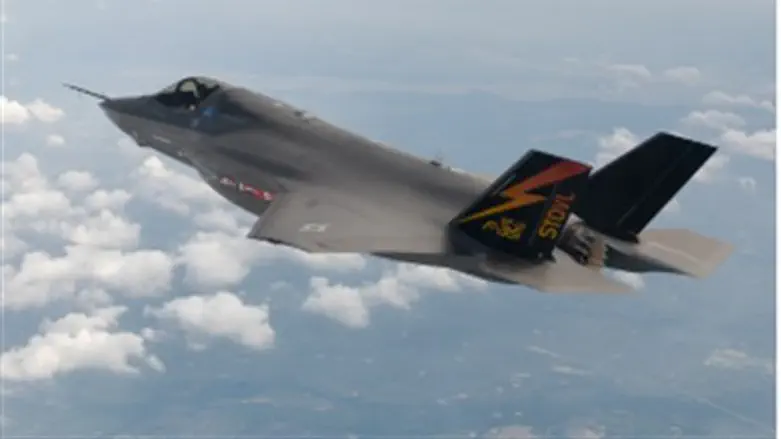 F-35
Flash 90
US-Israeli relations have suffered over the past month, with the State Department making multiple condemnations against Israel for both building Jewish homes in Jerusalem and for increasing its fight against Palestinian Arab terror. 
However, it has not damaged the military cooperation between them, as the Israel Aerospace Industries, together with representatives of the Israeli Ministry of Defense announced Tuesday that Israel will acquire a new squadron of F-35 jets from the US Army and Lockheed-Martin.
The transaction was finalized, in theory, last week between Defense Minister Moshe Ya'alon and US Secretary of Defense Chuck Hagel, during Ya'alon's US visit. 
However, the deal will not be finalized in practice until the US government signs off on the deal in a public announcement. 
As part of the deal, the IDF will receive 19 "stealth" aircraft at a cost of $2.7 billion, which will be deducted from US aid funds to Israel. 
As early as 2016, Israeli pilots will train on the new aircraft at a US Air Force base in Arizona.
Recently, the suggestion has been made that the US's decision to provide funding for such projects as the Iron Dome Missile Defense System and the IAF's fleet gives it free rein to make comments regarding Israel's policies. 
Earlier this month, US President Barack Obama insisted that US funding for Iron Dome was an "American value," and thus provided the justification for criticizing the decision to build 2,610 Jewish homes in the Jewish Givat Hamatos neighborhood of Jerusalem.
But Ya'alon, in particular, has sought to deflect criticism over remarks such as these, noting that the mutual defense partnership, in his words, is a function of "shared values." 
"Relations between the United States and Israel are based on shared interests and values​​, and a dispute or other comments should not cast a shadow over that," Ya'alon stated. "The United States supports Israel in a variety of fields - including, of course, security - and we need to remember that and to recognize and thank its leaders for that."
"The security systems of the two countries have an intimate relationship, one unprecedented in scope and importance to the security of Israel, and Secretary of Defense Chuck Hagel and I have a close relationship," he added.