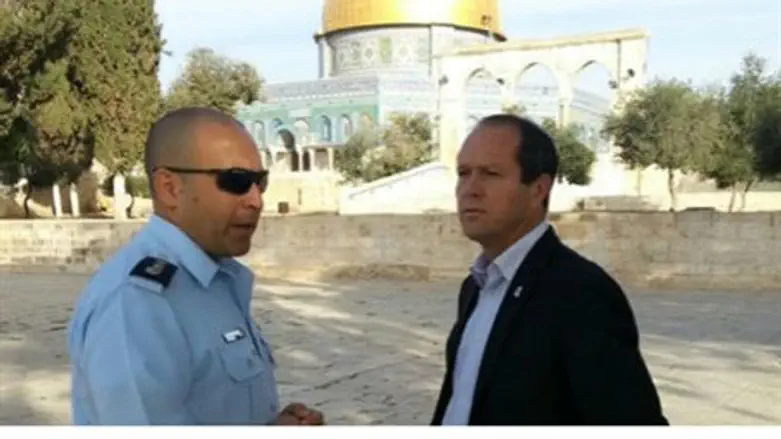 Barkat on Temple Mount
Jerusalem Municipality Spokesman
Jerusalem Mayor Nir Barkat toured the Temple Mount Tuesday together with the commander of the Israel Police's David District, Brig.-Gen. Avi Biton, and City Director Amnon Merhav.
The mayor ascended the Mount in order to get a close look at the police's preparations for dealing with ongoing Muslim rioting in the compound. The visit was not disturbed, except for some Muslim women who shouted "allahu akbar" in a frenzied manner:
Yehuda Glick, who directs the Liba organization that encourages Jewish tours of the Mount, commended Barkat for making the visit. "We hope he understands now, after seeing things first hand, the anguish of the pilgrims to the Temple Mount, and that he will show greater involvement in taking action for the rights of Jews on the Mount, and for realizing Israeli sovereignty at the most important and sacred national site of the Jewish people."
On Monday, Palestinian Authority (PA) Prime Minister Rami Hamdallah toured the Temple Mount. Hamdallah, who heads the PA unity government with Hamas, was allowed to pray at the site, and was accompanied by the PA "governor" of Jerusalem Adnan al-Husseini and senior officials from the PA Security Forces.