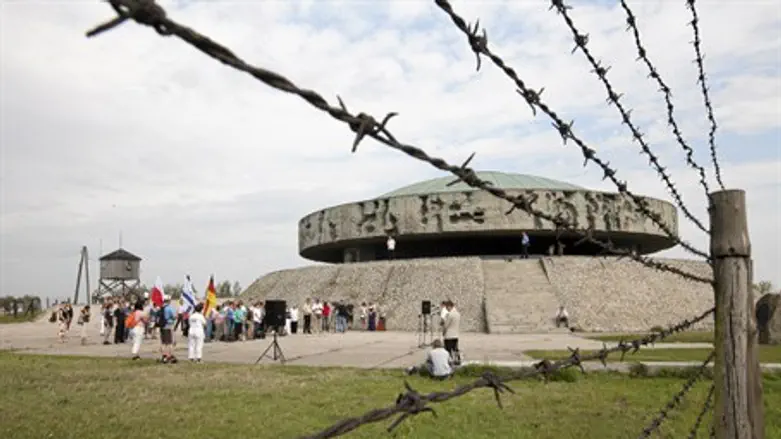 Nazi Death Camp Majdanek
Reuters
Two U.S. lawmakers are trying to pass legislation in Congress that will end federal benefits for people the government has identified as suspected Nazi war criminals, The Hill reports.
The two lawmakers, Reps. Carolyn Maloney (D-N.Y.) and Leonard Lance (R-N.J.), are putting the bill together in the wake of last week's revelation that millions of dollars have been paid to war crimes suspects and former SS guards even after they were forced out of the United States.
In an event Sunday with Holocaust survivors and Jewish community leaders, the duo said their bill will be introduced when Congress reconvenes in November.
Maloney and Lance's measure would declare Nazi war criminals to be ineligible for federal benefits and create a new immigration hearing process to end all federal payments to Nazi war criminals, according to The Hill.
"The American taxpayer should not be subsidizing the retirements of those guilty of the worst atrocities in human history," Maloney said.
The New York Democrat called on Congress to consider their bill, the Nazi Benefits Termination Act of 2014, when it returns for the lame-duck session after the elections.
"I am hopeful that the House will take this bill up when it returns for the lame duck session this November," Maloney said.
Maloney announced last week that she was drafting a bill to eliminate the Social Security payments to Nazi war crime suspects.
The Justice Department allowed suspected Nazi criminals to leave the U.S. faster by encouraging them to leave voluntarily and avoid the lengthy deportation process, according to an investigative report by The Associated Press (AP). However, the Nazi suspects were still eligible for federal benefit payments.
Lance said that Congress should provide a long-term legislative solution so that the Nazi suspects can no longer receive American taxpayer funds.
"To think Nazis are living off the tax funds of the children of liberators is sickening and morally wrong. Congress must put an end to it," Lance was quoted by The Hill as having said.
The White House responded to the AP revelation by saying it was of the position that former Nazis should not be collecting Social Security benefits.