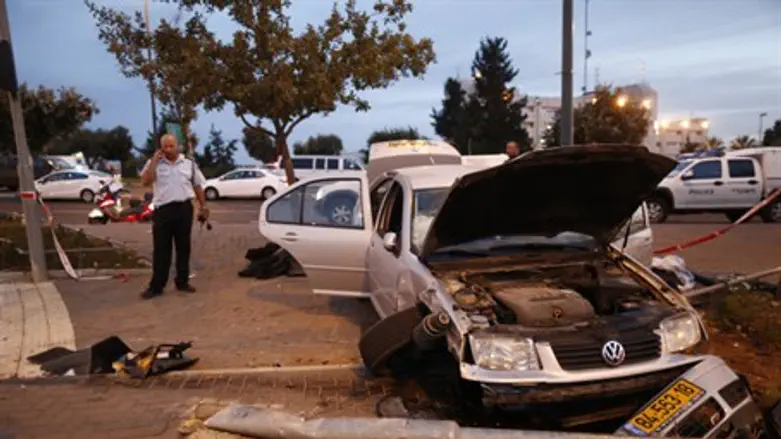 Scene of Jerusalem light rail attack
Flash 90
Clashes broke out Sunday in eastern Jerusalem between Palestinian Arabs and Israeli police ahead of the funeral of Abdelrahman Shaludi, the 21-year-old shot dead after killing two people with his car on Wednesday. Shaludi plowed his car into a crowd of pedestrians near Ammunition Hill.
Police used tear gas to repel hundreds of Arabs taking part in a "symbolic funeral" ceremony for Shaludi.
Police had been due to return Shaludi's body to his family after a post mortem, and only 20 people were to have been allowed to attend the funeral at 2100 GMT under a court order.
Jawad Siyyam, an activist from Silwan, where the Shaludis reside, alleged that Israeli authorities had threatened the family they would bury him on their own if they did not accept the conditions.
His family rejected those terms, but eventually the two sides agreed 70 people could attend, according to Siyyam.
A police spokeswoman confirmed the body would be handed over, but denied the quota had grown to 70 participants.
The news comes after a second victim, 22-year-old Ecuadorian citizen Karen Yemima Muskara, died of wounds sustained in the attack last Wednesday at Ammunition Hill in Jerusalem.
Three-month-old Chaya Zisel Braun was also murdered in the attack.
Violence has continued in Jerusalem since the attack, with Arab rioters arrested late Saturday as nightly clashes continued across Arab neighborhoods in Jerusalem.
The latest clashes were especially intense in Silwan, an area near Jerusalem's Old City and the City of David area, from where Shaludi hailed.
Police dispersed gangs of rock-throwing protesters, spokesman Micky Rosenfeld told AFP, adding that there was scattered unrest again on Sunday morning.
Violence also flared in the areas of A-Tur, Beit Hanina, Shuafat and Ras al-Amoud.