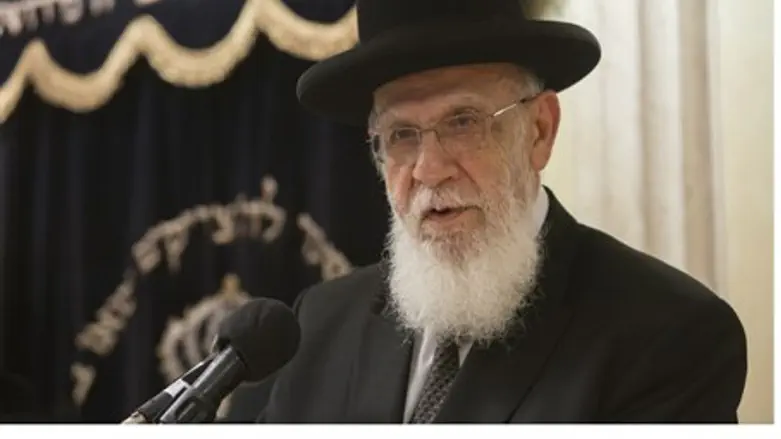 Rabbi Shalom Cohen
Israel news photo: Flash 90
A radio station that has been, since its establishment, identified with the hareidi Sephardic Shas party, has been banned by that party's current spiritual leadership. In a lecture Saturday night, Shas "Chief Rabbi" Shalom Cohen, who is head of the Porat Yosef yeshiva – the most prestigious rabbinical academy in the Sephardic world – said that the station was "worthless" and turned the Torah into "a joke."
Sephardic Chief Rabbi Yitzchak Yosef has reportedly agreed with Cohen, and while a specific ban has not been issued, he is said to be "extremely discouraging" of anyone in the hareidi community's listening to the Kol Beramah station.
Rabbi Cohen made the statements on Saturday night, at a lecture traditionally given by former Chief Rabbi Ovadia Yosef z"tl until his passing thirteen months ago. As head of Porat Yosef, Cohen "inherited" the lecture from the elder Rabbi Yosef.
Speaking to the crowd in the Yazdim Synagogue in Jerusalem, Cohen said that "when you turn on Kol Beramah you hear nonsense. Am I not right that listening to this is forbidden?" The crowd voiced its assent, and then Cohen turned to the Chief Rabbi, asking him "does his honor agree with me?" - to which Rabbi Yosef nodded and said "yes, definitely."
Rabbi Cohen added that "this is a station that corrupts our community. Once I was in cab and he was listening to the station, and all I heard was nonsense and silliness. They make fun of our Torah, instead of wasting time with this we should be learning the holy books. It is very dangerous to make a 'business' out of the Torah, as they do."
The lecture, ironically, was broadcast on Kol Beramah itself – the only outlet in Israel that broadcasts the Saturday night lecture. According to listeners, the attack on the station came just as the program broke for a news bulletin – and when the bulletin was over, the station started another program, instead of continuing the lecture, as usual.
An announcement on the station said that there had been a problem with the satellite used to broadcast the lecture. The station had no official comment Sunday.