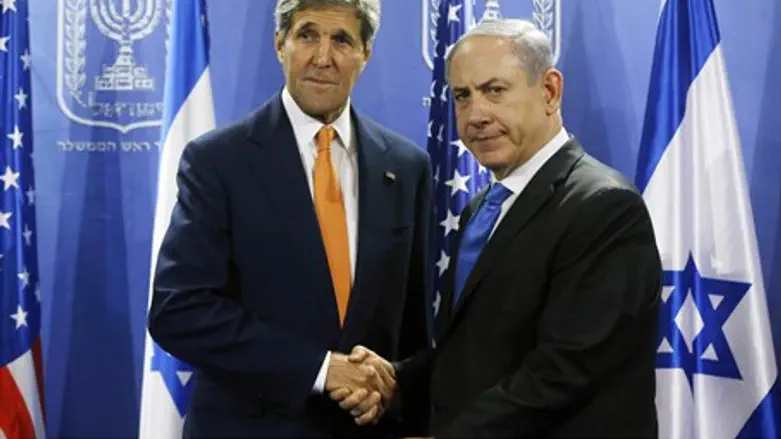 Tense relations? Kerry and Netanyahu
Reuters
Despite the perception that there is a "crisis" in relations between Israel and the US, the relationship between the two countries is quite healthy, according to Amos Gilad, Director of Policy and Political-Military Affairs and Chairman of Security Relations with Regional and Strategic Partners of the Ministry of Defense.
If there are perhaps tensions between leaders when they meet on top level issues, Israelis need to remember that there is a deep, strong relationship between the two sides further "down below."
Speaking over the weekend, Finance Minister Yair Lapid said that "there is a crisis with the United States and it should be treated as a crisis."
Lapid was speaking in Tel Aviv amid reports that Defense Minister Moshe Ya'alon was snubbed by the Obama administration and was denied meetings with Vice President Joe Biden and Secretary of State John Kerry during his trip to Washington last week.
"The relations with the United States are essential and important for Israel and we should do everything in the world to end the crisis," he added. "If we were not in a crisis, I have no doubt that Israel would have participated in the regional conference in Egypt and there is great significance to this."
Whether or not Ya'alon was "snubbed," relations between Israel and the US were still excellent, Gilad countered.
"A meeting between defense ministers and vice-presidents is the top of the pyramid," he told Israel Radio in an interview. "But there is an active and strong infrastructure down below. There are very strong ties between the IDF and the US Army, which is a strong peg in the array of defense of Israel."
Gilad also added that despite the ongoing Arab violence in Jerusalem, he did not believe a "third intifada" was in the offing.
"We tend to label incidents and even trends very quickly, the better to generate headlines," he said. "There are a lot of tense spots in our relationship with the Palestinians, but we have the means to deal with them."