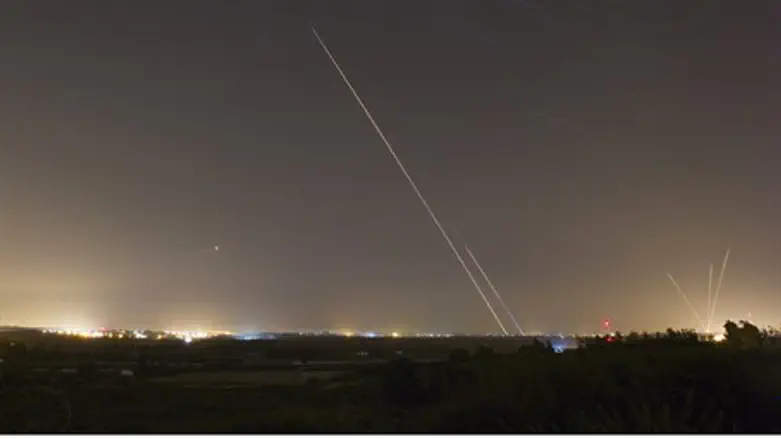 Rockets fired from Gaza
Reuters
Security sources reported Sunday that Hamas had conducted another experimental trial of firing rockets into the Mediterranean Sea. An Israeli citizen confirmed witnessing one of the launches from near the Gaza border.
The test, conducted early Sunday morning, consisted of two rockets being launched from what used to be Gush Katif, in Gaza. The first rocket fell short and second landed in the ocean. 
Sunday's incident represents at least the eighth time in which such an experiment has taken place since Operation Protective Edge ended in a ceasefire. It is also the third test in four days, the most recent of which occurred Friday morning. 
News sites have speculated that such missile tests are done to check the capabilities of the terror group's lethal arsenal.
The sources who reported Sunday's test trial to Galgalatz (Army Radio) noted with concern that they are aware of the high frequency of such rocket tests and stated explicitly that "such experiments are conducted on an average of once a week lately."
Meanwhile, Egyptian Minister of the Interior, Samih Bashadi, stated that Palestinian forces were behind the car bomb explosion that occurred in northern Sinai Friday night, and which killed almost 30 people.
However, he said, the rocket test did not indicate a severe security threat in the region.