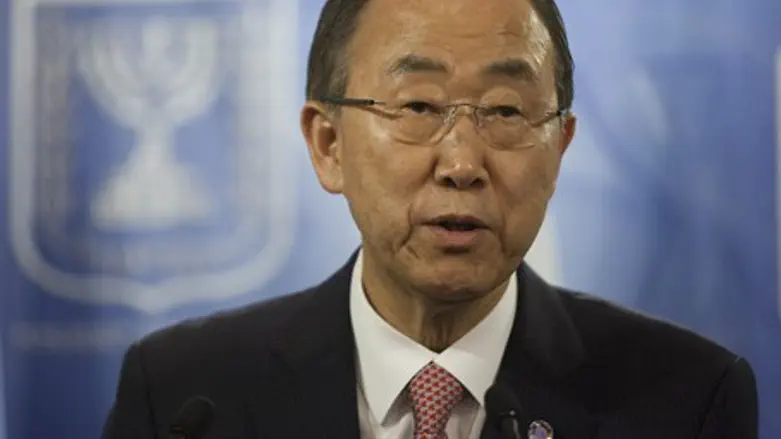 Ban Ki-Moon
Flash 90
The United Nations (UN) has become infamous for its anti-Israel bias, with UN Secretary General Ban Ki-Moon making a public effort to support Hamas and Gaza despite ample evidence that such support is encouraging terror against Israelis and Jews.
However, even the UN thanked Israel during a visit from the Israeli delegation last week, Walla! News reports Sunday, for its dedication to taking steps against the Ebola outbreak ravaging West Africa and sparking hysteria in the West. 
"I want to thank you for your letter regarding Israel's commitment to join the global struggle against the Ebola outbreak," Ban wrote, in a letter to Israel's ambassador to the UN, Ron Prosor, "including the contribution of health clinics against Ebola in Sierra Leone and Liberia." 
"I am grateful for Israel's critical support, as well, in sending sending medical and infectious disease experts to Ethiopia and Cameroon, to conduct preparedness exercises there [in the event the outbreak spreads]," he continued. "This is very good, very positive news. Israel's contribution will play a significant role in increasing the quality and accessibility of care to victims."
"I'm sure I can count on Israel's support," he concluded. 
Ebola has already infected at 10,000 people and killed over 4,500 in West Africa, the World Health Organization reported early Sunday morning. So far, it has hit Guinea, Liberia, Sierra Leone, Spain and the United States. 
WHO reported earlier this month that with unofficial figures included, the disease is showing a 70% rate of mortality, much higher than its traditional 50% rate.
Israel - other than sending experts to the epicenter of the outbreak - has also been readying itself for the possibility of the epidemic arriving on its soil throughout the past several weeks, and conducted an "Ebola preparedness drill" in Ben-Gurion airport on Friday.