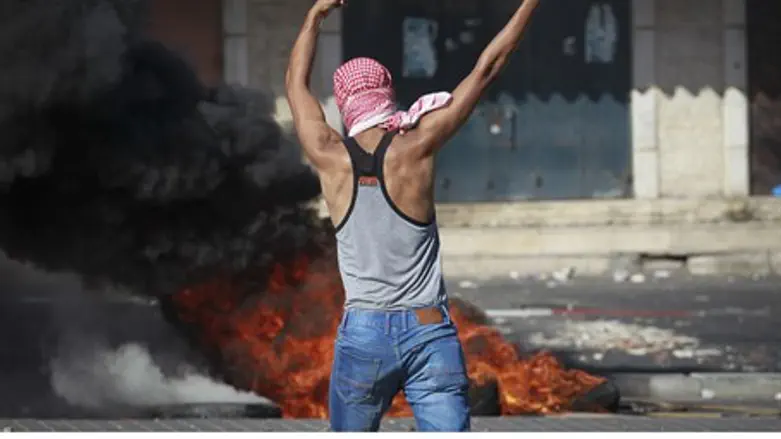 Arab rioter in Jerusalem's 'silent intifada'
Hadas Parush/FLASH90
A Border Patrol officer serving in eastern Jerusalem has for the first time revealed the police helplessness in dealing with the "silent intifada" that has been gripping the capital in recent months, as Arab rock, firebomb and even gunfire attacks rise sharply.
Speaking on Channel 2's "Shesh Im" TV program Thursday, a day after a Hamas terrorist wounded nine with his car including a three-month-old baby who was killed in the attack, the officer admitted the Border Patrol warriors are forced to "stand like dolls" against the Arab terror.
"We feel like our hands are tied," the combat officer revealed, placing the blame squarely on the shoulders of Interior Security Minister Yitzhak Aharonovich for the collapse in security.
According to the officer, senior captains as well as Aharonovich are trying to calm things down and hush up the "silent intifada" rather than fight Arab terror to the end.
"How can it be that they have ammunition inside of Jerusalem and we are standing like dolls begging them?" asks the officer, noting on the constant incidents of shootings in the French Hill neighborhood, Kalandia, and violent riots on the Temple Mount for hours on end.
Aharonovich has come in for great criticism as the "silent intifada" heats up under his watch; early this month Jerusalem Mayor Nir Barkat charged Aharonovich with abandoning the security of the capital.
Likewise back in May, a senior government official told Arutz Sheva that Aharonovich has been failing at his job, terming him a "catastrophe."
The Arab terrorism in the capital continued on Thursday, with rock-hurling terrorists attacking a kindergarten, wounding a bus driver lightly, and throwing rocks at the Jewish neighborhood of East Talpiot until police managed to disperse them.