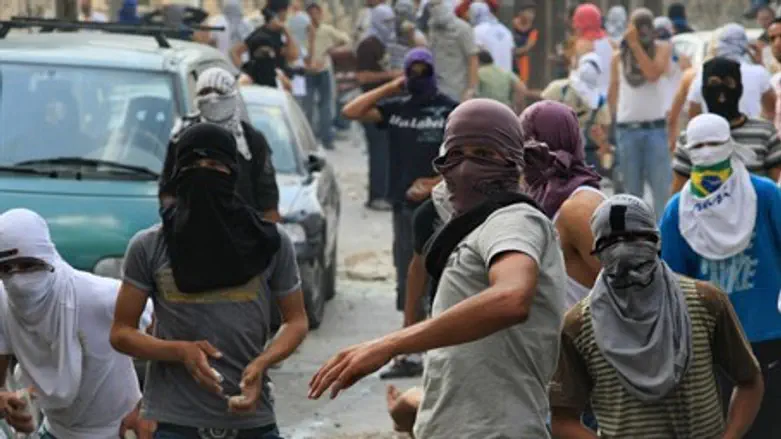 Arab rioters in Jerusalem (file)
Flash 90
The terrorist violence gripping Jerusalem continues unabated Thursday afternoon, after a three-month-old infant was murdered the day before by a Hamas terrorist in a car, and a kindergarten in the capital was attacked earlier Thursday morning.
A bus driver became the latest victim of the "silent intifada" as he drove near Gethsemane park at the foot of the Mount of Olives, adjacent to the Old City.
There the unfortunate driver was targeted by Arab rioters who hurled rocks at his bus, damaging it and wounding him lightly in his leg. Another bus passing by was also damaged in the incident.
Police say their forces have arrived in the area and currently the violence has been quelled.
In parallel, masked Arab rioters launched a barrage of potentially lethal rocks on the Jewish neighborhood of East Talpiot, which is located in the south-east of the capital and to the south of the Old City, and which has Arab neighborhoods adjacent to it on several sides.
The mob of rioters congregated on Meir Nakar Street near the neighborhood of Al-Sawahira Al-Gharbiyya, which recently received a controversial building project from the Jerusalem Municipality adding 2,500 new housing units to the 3,000 illegal housing units already there.
Police arrived to confront the rioters, and proceeded to use riot dispersal methods to stop the violence. Reportedly no injuries or damage was inflicted during the harrowing incident.
On Thursday night Abdelrahman Shaludi, a Hamas terrorist, wounded nine Israelis by running over them in his car at the Ammunition Hill light rail station. One of the wounded, three-month-old baby Chaya Zisel Braun, later died of her wounds.
After the attack, Shaludi tried to flee from the scene on foot, but police managed to shoot and apprehend him, and he later succumbed to his wounds.
A senior aid to Palestinian Authority (PA) Chairman Mahmoud Abbas lost no time in applauding the murder, hailing the killer as a "hero."