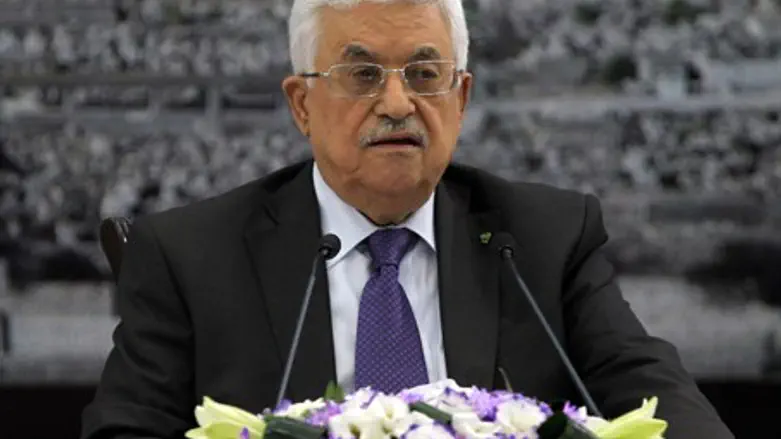 Mahmoud Abbas
Flash 90
A senior aid to Palestinian Authority leader Mahmoud Abbas applauded the murder of a three-month-old Israeli girl in last night's Jerusalem terrorist attack, and hailed her killer as a "hero."
In a Facebook post translated by Palestinian Media Watch, Sultan Abu-Einen hailed "the heroic martyr, Abed El-Rahman Idriss al-Shaludi," and that the terrorist, whose surname has also been spelled "Shaludeh" in English, was released from an Israeli prison in December 2013 after serving a 16-month sentence for previous terror offenses.
Abu-Einen, who is a member of Fatah's Central Committee and heads the PA office dealing with NGOs , claimed that several months after his release Shaludeh was rearrested at his home in the al-Bustan neighborhood of Jerusalem, and detained for three weeks before being released again. His father - who reportedly confronted police when they came to investigate his home following last night's attack - was also reportedly arrested in that incident.
The senior PA official ends his post with a montage of two pictures - a close-up of the killer and a still image from a video recorded by an onlooker of his arrest by police after last night's attack - and astonishingly claims that it was Shaludeh who was "killed in cold blood."
Abu-Einen's original post in Arabic
Palestinian Media Watch
"The following picture shows the last moments before his death as a martyr as a result of shot fired at close-range. He was murdered in cold blood," the post reads.
Shaludeh was shot and wounded by police as he fled the scene of the attack, and died shortly afterwards in hospital.
Following the attack on Wednesday night, Israeli Prime Minister Binyamin Netanyahu blamed Mahmoud Abbas and his Palestinian Authority, saying ongoing violence was the direct result of the constant flow of anti-Israel and anti-Semitic incitement coming from the PA, and from Abbas himself.
"This is how Abu Mazen [Palestinian Authority Chairman Mahmoud Abbas - ed.]'s partners in government act, the same Abu Mazen who – only a few days ago – incited toward a terrorist attack in Jerusalem," the Prime Minister said.