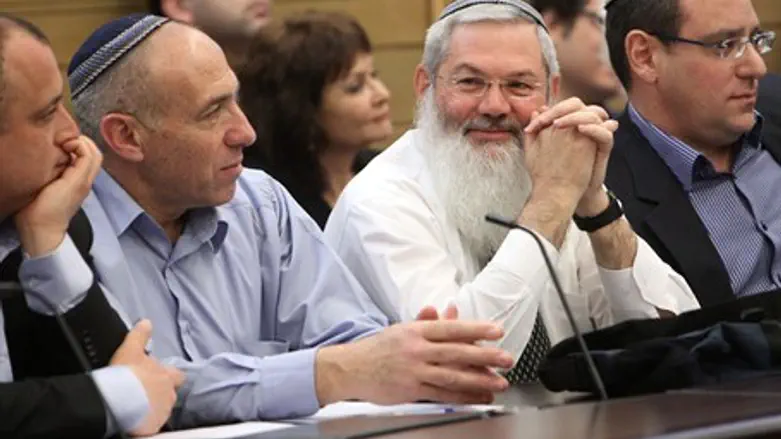 New Jewish Home MKs Rabbi Eli Ben Dahan and M
Flash 90
"The prime minister will have to decide whom he prefers – the Jewish Home or Hatnua," Deputy Minister for Religious Services, MK Rabbi Eli Ben Dahan (Jewish Home), told Arutz Sheva Wednesday.
The coalition is in crisis over the prime minister's reported decision to withdraw support for the Conversion Bill proposed by liberal Hatnua.
MK Ben Dahan said that "if the bill comes up for a second and third reading, we will have to leave the government or cause the bill not to come up for a vote."
Ben Dahan explained that the version of the bill that the government was supposed to vote on is a watered-down one, which was hammered out between Hatnua and the Jewish Home. If that version has now been voided, the bill will probably be brought for a vote in its original, more extreme version, he reasoned, in which case it will be unacceptable and "we will get a much worse law through the back door."
MK Elazar Stern of Hatnua, who sponsored the original bill, told Ynet Wednesday that he will not hesitate to leave the coalition, and possibly his party, if the law is indeed struck down. Asked if his party leader Tzipi Livni "blinked" instead of declaring political war over Netanyahu's decision to block the bill, he acknowledged that "she may have."
"As of now, she did not go all the way with this matter," Stern said. "But I will go all the way."
The heads of the coalition factions will convene Wednesday with Prime Minister Netanyahu in an effort to defuse the heightened political tensionbetween them. The more leftist-liberal factions in the government, Yesh Atid and Hatnua, have already announced that they are forming a united bloc, and there have been reports that Avigdor Liberman's Yisrael Beytenu party will also vote in favor of Hatnua's Conversion Bill.