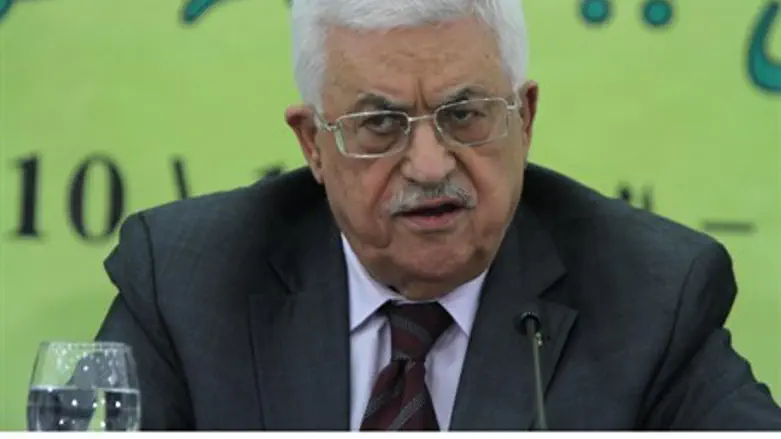 Mahmoud Abbas
Flash90
Palestinian Authority leader Mahmoud Abbas has toughened the PA law against selling property to Israeli Jews Tuesday, following recent successful efforts by Jewish NGOs to reclaim parts of Jerusalem where former Jewish communities where expelled.
According to the new legislation, any Palestinian Arabs involved in renting, selling or facilitating real estate transactions with citizens of "hostile countries" in any way would receive life imprisonment and hard-labor, according to Wafa news agency.
The previous law "only" sentenced those found guilty to life imprisonment.
According to the Palestine Liberation Organization (PLO) Penal Code, property sales to Israelis are actually considered an act of treason punishable by death. However, such sentences must be approved by the PA president, and Abbas has preferred to authorize life sentences as well - possibly wary of an international backlash.
It comes as Arab rioters attempted to violently force several Jewish families out of their homes in Kfar Shiloach in Jerusalem, known by Arabs as Silwan, just hours after they moved in.
No one was injured in the incident in the Kfar Shiloach neighborhood (known as Silwan in Arabic) late on Monday, which saw a group of Palestinians firing flares and throwing petrol bombs at the building, a police statement said.
The building was one of two structures housing 10 apartments that were purchased by Jews before dawn on Monday in nine housing units in "Beit Ovadia" and "Beit Frumkin," located in the "Yemenite Village" area of Shiloach that was founded by Jewish immigrants from Yemen in the 1880s, who were ethnically-cleansed in 1938 following violent Arab rioting.
That purchase came just a month after Jewish families moved into more than 25 apartments in the area that they purchased from local Arabs.