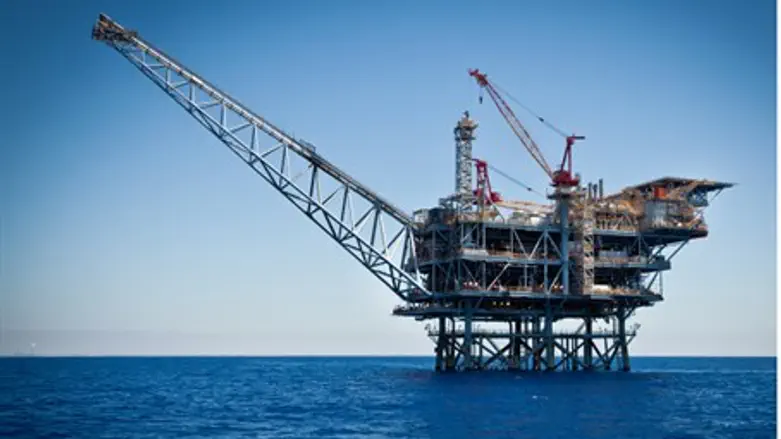 Gas field (illustrative)
Flash90
An Israeli firm will supply Egypt with natural gas, a company spokesman said Monday, more than two years after sabotage halted the flow of Egyptian gas to Israel.
For more than a decade Israel relied on Egypt for roughly 40 percent of its gas needs in line with an export accord signed in 2005 by the two countries which are bound by a peace treaty.
But in April 2012 Egypt annulled the contract, saying Israel had not met the financial obligations of the agreement, in a decision that came amid a spate of bomb attacks that targeted the pipeline used to transport natural gas to Israel and Jordan.
On Sunday the Israeli owners of the Tamar offshore gas field informed the Tel Aviv stock exchange they had struck a deal to export natural gas to the Egyptian firm Dolphinus Holdings.
A statement said Tamar was in "exclusive negotiations" with Dolphinus Holdings to provide it with up to 2.5 billion cubic metres (bcm) over a seven-year span.
Dolphinus Holdings "represents a consortium of large non-governmental industrial and commercial Egyptian gas customers," according to Tamar.
The natural gas would be transported to Egypt through the same East Mediterranean Gas pipeline used by Cairo to export gas to Israel and Jordan before it was attacked and crippled the saboteurs.
Experts estimate the deal to be worth over $4 billion (3.13 billion euros).
Tamar holds 250 bcm of natural gas, and lies 80 kilometers (43 nautical miles) west of the northern Israeli port city of Haifa.
US giant Noble Energy owns 36 percent of Tamar, with four other Israeli partners holding smaller shares.
Tamar's discovery, along with the twice-as-large Leviathan gas field, shifted Israel from costly and unreliable imports to a growing self-sufficiency and the potential to become an energy exporter. 
Several months ago, the Israeli government approved a new plan allowing up to 40% of what it extracts from the gas fields to be exported. Prime Minister Binyamin Netanyahu has said exports would bring in some $60 billion to state coffers over the next 20 years; Israel's natural gas finds are expected to sharply reduce its dependence on imports.
Last month, Noble and its partners signed a letter of intent to supply Jordan's National Electric Power Company Ltd with 487 bcm of natural gas from Leviathan over 15 years. The move was met with opposition from 40 Jordanian MPs. 
Egypt's gas contract with Israel was the largest trade deal between the two former foes who signed a peace treaty in 1979, with the first exports launched in 2008. 
It also marks a resurgence in cooperation between the two countries, which saw a souring of relations during the brief rule of the Muslim Brotherhood during 2012, but has recently turned back around after Islamist president Mohammed Morsi's ouster. Egypt and Israel have already cooperated on security issues, both regarding terror from Hamas and a rise in Islamism in the Sinai desert.