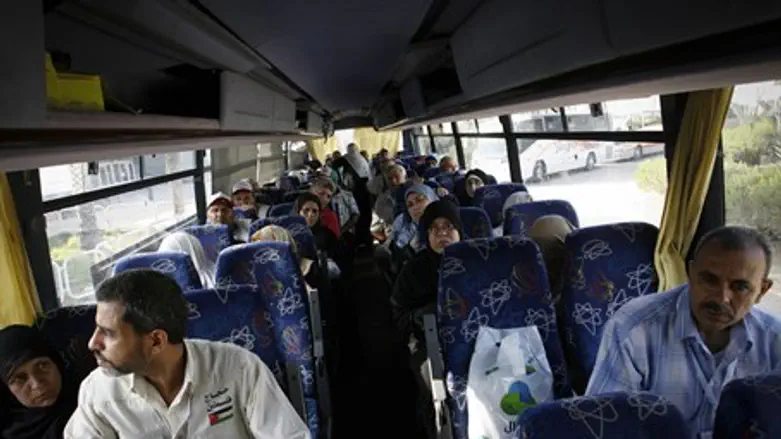 Gaza residents in bus leaving crossing (file)
Flash 90
Israel has apparently extended yet another "gesture" to the Hamas-enclave of Gaza, allowing residents to visit their terrorist relatives jailed in Israeli prisons on Monday for the first time since June, when such visits were limited after the abduction and murder of the three Israeli teens by Hamas.
The visits were reported by a Palestinian Authority (PA) crossings official who spoke to the Palestinian Arab Ma'an News Agency, revealing that two buses carrying the 60 Gaza residents crossed into Israel.
Prior to the shocking abduction and murder, visits were held every Monday through the Erez crossing on buses organized by the International Committee of the Red Cross.
The latest "gesture" comes after 500 Gazans were allowed to pray on the Temple Mount two weeks ago on Sunday, a day after Yom Kippur, during the Muslim holiday of Eid al-Adha celebrating Abraham's "sacrifice of Ishmael" in an appropriation of the original Torah story.
Ironically Muslims from Gaza were allowed to pray on the site, even though Jews have been forbidden from praying at the Mount which is the holiest site in Judaism by a fiat of the Jordanian Waqf (Islamic trust), which holds de facto control of the site.
Another recent "gesture" has raised eyebrows as well, as Israel began transporting more construction materials into Gaza last Tuesday as a "humanitarian gesture," including 600 tons of cement, 50 truckloads of aggregate and 10 truckloads of steel.
That move comes despite the fact that such materials were used to construct Hamas's terror tunnel infrastructure into Israel to attack civilians, and that Hamas has already openly restarted construction on the tunnels.
Last Sunday, world leaders pledged $5.4 billion to rebuild Gaza at a Cairo donor conference.