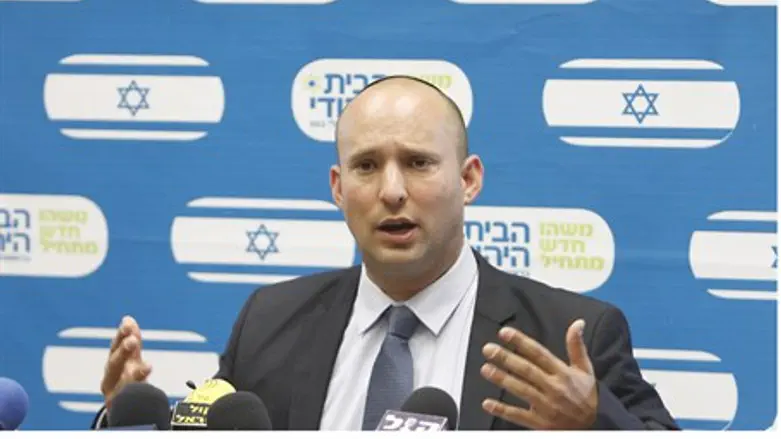 Naftali Bennett
Flash 90
Economics Minister and Jewish Home Chairman Naftali Bennett fired back at US Secretary of State John Kerry on Friday, after the latter claimed Israel's failures to forge a peace deal with the intransigent Palestinian Authority (PA) - not the US's failures in the Middle East - are to blame for the rise of Islamic State (ISIS).
"Even when a British Muslim beheads a British Christian, there will always be those who blame the Jews," Bennett stated. 
"We don't justify terror; we fight terror," he added. "The Israeli-Palestinian conflict statement encourages ISIS, and is a boost to terrorism worldwide." 
Bennett also said that Kerry, as well as the West, does not take ISIS seriously.
"I suggest they listen to and believe ISIS," he said. "These terrorists want to take over the Middle East, from Syria to Jordan and Lebanon, and to re-establish the [historic] Islamic caliphate."
"We could either fight it or explain it away," he continued. "The choice is in the world's hands, and it will bear the consequences."
Communications Minister Gilad Erdan (Likud) also slammed Kerry for the statements Friday afternoon, saying to Kol Yisrael radio that it demonstrates a critical mass in the lack of understanding of the situation in the Middle East in general and of the nuances of the Israeli-Palestinian conflict in particular. 
Erdan also blamed US President Barack Obama himself for the move, saying that Obama, too, has confused regional tensions in the mushrooming Islamic holy war between Sunnis and Shi'ites - and with ISIS - with the specific realm of the Israeli-Arab conflict. 
Losing the blame game
Kerry blamed Israel for the rise in global jihadism on Thursday, pointing the finger straight at Jerusalem - despite a long and seasoned history of Washington's own failures in the Middle East. 
Kerry insisted that Israel "humiliated" the Palestinian Arabs and that it has led to a "loss of dignity," leading to a recruitment draw toward ISIS. 
"There wasn't a leader I met with in the region who didn't raise with me spontaneously the need to try to get peace between Israel and the
Palestinians, because it was a cause of recruitment and of street anger and agitation," Kerry claimed, referring to a visit to Cairo that raised $5.4 billion for Hamas in Gaza on Sunday. 
"People need to understand the connection of that. And it has something to do with humiliation and denial and absence of dignity," he said.
Kerry himself, however, was the architect of failed peace talks earlier this year, whereby an impatient PA made a unity pact with Hamas and then applied for international legitimacy at the United Nations in breach of the 1993 Oslo Accords. 
And shortly after ISIS began making major gains over the summer, analysts noted that it was likely the US's pullout of Iraq that led to ISIS's establishment - quoting an eerie set of statements then-President George W. Bush made on the matter in 2007.